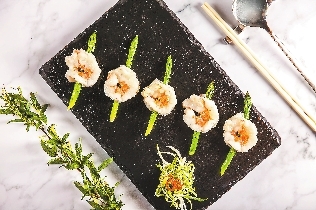 T'ANG Court at The Langham, Shenzhen recently introduced an all-new menu that is a refreshing take on classic Cantonese cuisine and features dishes made with the freshest ingredients.
Lai Man Kong, the Chinese executive chef at The Langham, Shenzhen, will be presenting an all-new Cantonese cuisine and dim sum menu that stays true to tradition while also introducing some refreshing changes.
For example, instead of steaming a whole giant grouper, fish balls are used to add a twist in presentation. The fish balls are laid on top of seasonal vegetables for added freshness. Diners will get a chance to taste the dish, "Prawn with Asparagus," which requires delicate knifework that few in the world can execute. Fresh prawns are put through finely cut asparagus sticks before being stir-fired.
Lai also likes to blend different ingredients that he has discovered in his travels to create dishes with unforgettable depth.
For instance, in the dish, "Rice with Abalone Wrapped in Lotus Leaf," Thai rice, chicken, crab meat, dried scallops and diced bamboo shoots are fried before being wrapped in a lotus leaf and steamed. The dish is served with a special sauce and a full abalone.
The new menu also includes reinvented Cantonese dim sum selections, such as shrimp dumplings in the shape of goldfish and shumai with a green skin made with fresh spinach.(Maggie Tang)