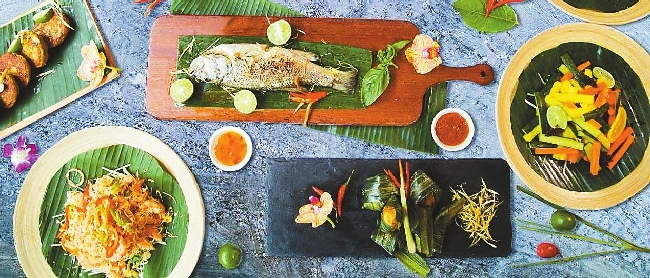 IF you cannot arrange a vacation to some distant tropical island on the lazy days of summer when you don't really want to work, you can at least indulge your taste buds and take them on a journey across Southeast Asia. Most people would agree that Southeast Asian cuisine is perhaps the best match for summer.
Until the end of September, the Seasons restaurant at five-star Kempinski Hotel Shenzhen is offering a buffet dinner featuring Southeast Asian food, distinctive for its strong aromatic flavors. Cooked with seafood and lots of natural plants, the specialties will be served each weekend.
Chao tom, or Vietnamese sugar cane shrimp, is one of the appetizers that you will absolutely adore. A savory shrimp paste is wrapped around a sugarcane stick, then quickly fried to finish. The sugarcane sticks function as skewers that you can chew on to release the refreshing sugarcane juice.
Shredded coconut and shrimp salad is not your regular salad. Peeled shrimps are served with shredded coconut pulp as well as red and green peppers, while the dressing made of lemon juice, shallot and chili certainly adds a strong flavor to the mildly sweet and tender dish.
The pandan leaf-flavored coconut rice cake is pleasing to the eye as well as refreshingly yummy.
Another popular dessert is the durian pancake, which is filled with tasty cream. The pancake is thin, and the cream pairs perfectly with durian. Another choice is the mango pancake.
They also have traditional Thai dishes like fried rice with pineapple floss, fish cakes and tom yam gong soup.
Whether it originates in Thailand, Malaysia, Singapore, Vietnam, Laos or Myanmar, you can try the dishes this summer at Kempinski, which promises to use only the highest quality ingredients.
Time: 5:30-9:30 p.m., Friday to Sunday, until Sept. 30
Price: 428 yuan (US$62.5) per person, including VAT and service charge
Tel: 8888-8888 ext. 8318 / 8321
Add: Haide Street 3, Houhaibin Road, Nanshan District
Metro: Line 2 or 11, Houhai Station
(Debra Li)