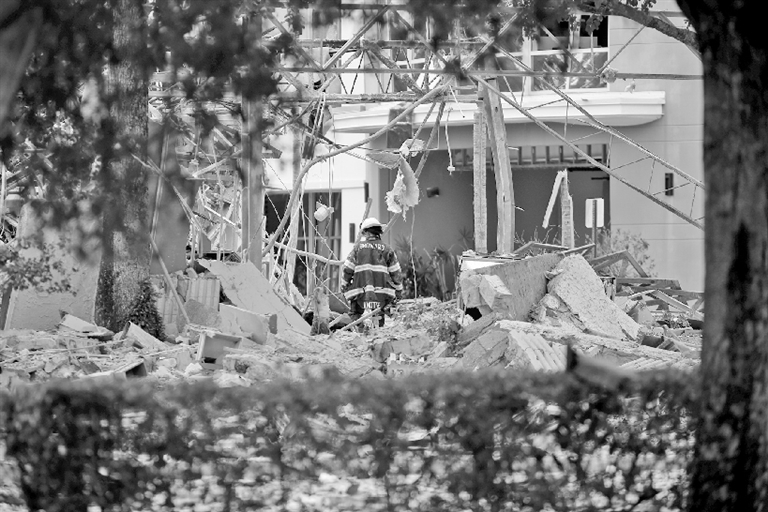 U.S. authorities suspect a gas leak as the cause of a booming explosion Saturday morning at a Plantation shopping center that injured 23 people.
But agents from the federal Bureau of Alcohol, Tobacco, Firearms and Explosives, along with the Broward Sheriff's bomb squad, were investigating. Posts on social media reported the blast was heard more than 9.6 kilometers to the west near Weston to about 6.4 kilometers to the east near the turnpike.
"We suspect it was a gas leak," Plantation Fire Rescue Deputy Chief Joel Gordon said. "We haven't ruled out anything yet."
The center of the explosion appeared to be a former restaurant, Pizzafire, at Market on University, 1025 South University Drive.
The store closed in December.
About a dozen neighboring businesses in the center, including LA Fitness, sustained damage including shattered windows, collapsed walls, fallen shelves and broken equipment and furniture.
Injured people were taken to area hospitals for treatment, including one child and one adult who were brought to Broward Health Medical Center in Fort Lauderdale.
Gordon said first responders treated "what we call classic blast related injuries," such as ringing ears and cuts and bruises from flying debris.
The debris field stretched a few hundred meters.
Dozens of vehicles parked nearby had shattered windows, body dents, and some airbags deployed from the blast.
(SD-Agencies)