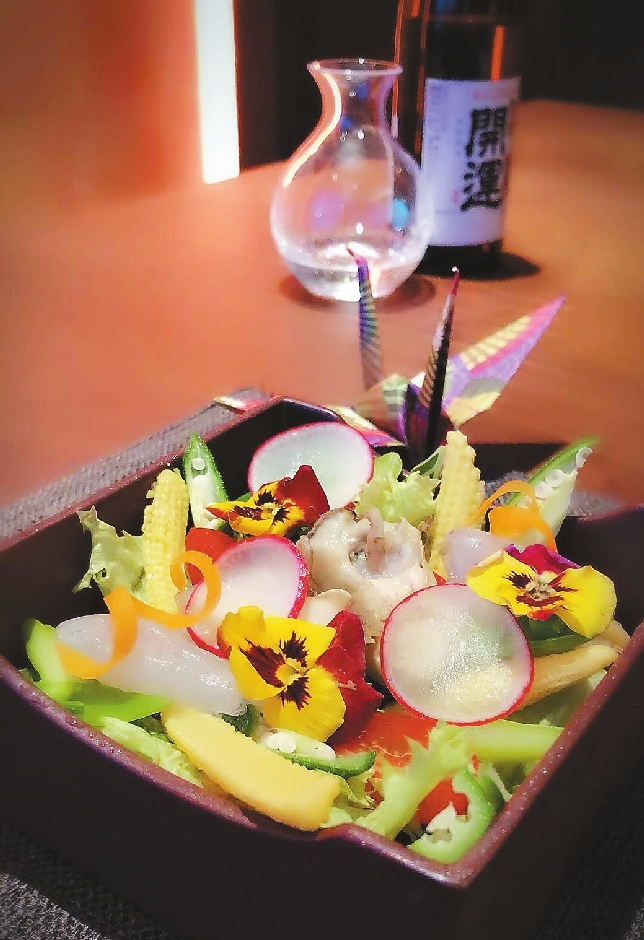 WELCOMING and exquisite, Japanese restaurant Kokoni at Raffles Shenzhen offers a culinary adventure of elegant kaiseki, premium steak, sushi and sashimi served with fresh ingredients and meticulous attention to detail by Japanese master chef Yamada Naohisa, who is known for his authentic culinary techniques and cooking style.
Offering an elegant dining area and several private dining rooms, the restaurant features a contemporary setting with stunning views over the city and Shenzhen Bay.
Originally from Hokkaido, Yamada brings to Raffles Shenzhen more than 30 years of experience with Japanese cuisine and expertise in kaiseki, teppanyaki and molecular gastronomy.
Kaiseki cuisine is known as a type of art form that balances the taste, texture, appearance and colors of food. Yamada strictly follows the spirit of true kaiseki cuisine by using fresh and seasonal ingredients in ways that best present their flavors. The dishes are beautifully arranged and garnished with fresh leaves and flowers designed to resemble natural plants and animals on carefully selected plates and bowls.
Innovatively designed with contemporary architecture, state-of-the-art facilities, and 168 generously spacious guest rooms and suites, Raffles Shenzhen is an urban oasis that occupies the top floors of the prestigious 72-story One Shenzhen Bay Office Building. As a new and glamorous icon of Shenzhen, Raffles brings luxury and bespoke service in the economic center to new heights.
Add: 34/F, Raffles Shenzhen, 3008 Zhongxin Road, Nanshan District
Tel: 8121-9373(Tang Li)