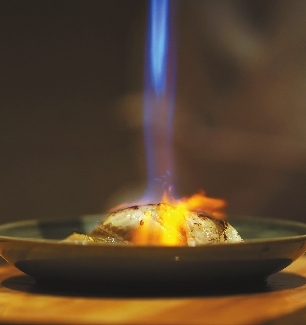 Wang Haolan
Holly_cn@163.com
GROPING through the labyrinth of Tokyo alleys to feast on Japanese food no longer has anything to do with cross-strait flights and repeated references to Trip Advisor. Yokocho, a food court named after a Japanese word that means "alleyway," opened its doors to gourmets at Shum Yip UpperHills (UpperHills) in Futian District on June 17.
The food court, which is the largest catering entity at UpperHills, gathers brasseries from Tokyo, ranging from Michelin-starred delicacies to signature street foods. Gourmets following various dress codes will find themselves comfortable at the table, whether appreciating freshly-made sushi served with Daginjo (the best kind of Japanese rice wine), or gobbling down chicken kebabs by the counter in a pair of casual jeans.
At Misoji, a high-end sushi brasserie offering individual meal sets and a limited number of seats, foodies can find a throwback to "Jiro Dreams of Sushi," a renowned Japanese food documentary directed by David Gelb. A variety of fish fillets, including bluefin tuna, arctic salmon, leather jacket fish and mackerel, are atop rice marinated in a specially-made vinegar and made fresh into bite-sized shapes served with meshed wasabi roots. The chef also customizes sushi for customers by using a collection of dressings, such as salmon roe and sauces made from eel bones or the livers of angler fish.
As the only Michelin-starred restaurant at the food court, Bird Land embodies the zen-like grace of Japanse Yakitori (grilled chicken kebabs) with tranquil ambiance, clear air and small servings. Chicken liver paste served with a baguette, the chicken thigh kebab and the chicken breast kebab served with wasabi and grilled ginkgos are the top recommendations.
After groping around the premise to get a stomach full of teppanyaki, ramen and oden, a shot of Gekkikan rice wine, which enjoys a history of 400 years, is the best way for an epicure to bring his dinner to a satisfying conclusion.
The food court is the second property in the world opened by the Yokocho brand. The first property, Waikiki Yokocho, was opened in 2017 in Hawaii, the United States.
Address: 3/F, UpperHills, 5001 Huanggang Road, Futian District (福田区皇岗路5001号深业上城3楼小镇)
Metro: Line 3 to Lianhuacun Station (莲花村站), Exit C