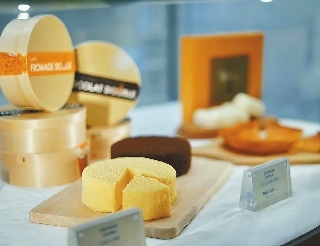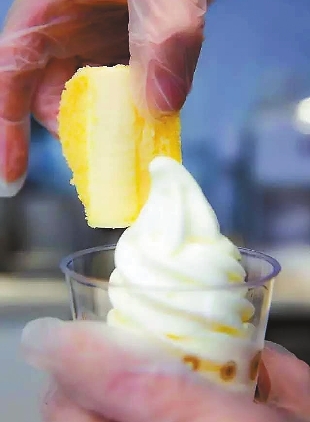 CHEESE milk tea has become the latest craze among cheese lovers. Now, a new cheesy treat has come to town — the double-layer double fromage cheesecake from LeTAO, a popular dessert chain from Otaru city in Hokkaido, Japan. The store opened June 28 at MixC Shenzhen Bay in Nanshan District.
It's signature double fromage — with a layer of baked cheesecake below and an unbaked cheesecake on top — is made with mascarpone from an Italian cheese producer as well as fresh cream, wheat and eggs from Hokkaido.
To maintain the authenticity of the flavor, all of the cakes are originally made in Hokkaido and then cold-chain shipped to Shenzhen.
LeTAO also has a Chocolate Double Cake, a chocolate version of the double fromage.
The signature flavor costs 228 yuan (US$33) for one cake, while the chocolate cakes are priced at 238 yuan.
For those who eat alone or who just want to try a bite, the store recently added slice cakes, which are one-quarter of the normal-sized ones. The signature flavor costs 58 yuan for one slice and the chocolate flavor is 60 yuan.
The store is also offering "Hokkaido Cups," featuring cakes, cookies and ice cream that are rich and unique in taste, with a special promotional price of 68 yuan for one cup.
Other highlights include Venezia Rendezvous, a mascarpone creme brulee tart made with fresh cream from Hokkaido; Ironai, langue de chat cheese cookies and Royale Montagne, pyramid-shaped chocolates made with a blend of Darjeeling tea and chocolate.
LeTAO first opened in June 1998 in the picturesque port city of Otaru, and its stores are a must-visit for tourists in the area. (Yang Mei)