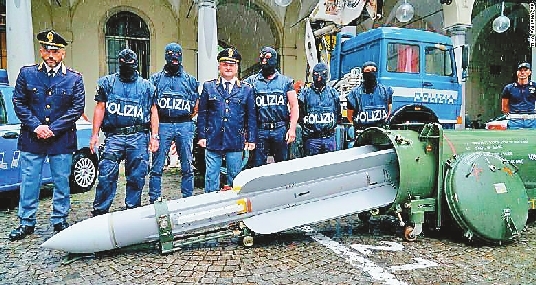 POLICE in Italy said they seized a large arsenal of military weapons, including an air-to-air missile, machine guns and rocket launchers during raids Monday. Authorities said the finds are without precedent.
Officers arrested three men, including Fabio Del Bergiolo, who ran for the Italian Senate as a political candidate for Forza Nuova, an extreme right party, in 2001. He was held for allegedly acting as an intermediary to sell weapons, while the other two suspects are Swiss citizen Alessandro Monti, 42, and Fabio Bernardi, 51, who were detained for allegedly possessing and trying to sell a French-made Matra air-to-air missile.
The missile, 3.54 meters long, was made in France and once belonged to the Qatari armed forces. Del Bergiolo tried to sell it for 470,000 euros (US$529,000 ), it was claimed.
Investigations are under way to determine how it arrived in Italy. The raids were sparked by a probe into far-right extremist groups who had fought alongside Russian-backed separatist forces in eastern Ukraine last July, according to a police statement.   (CGTN)