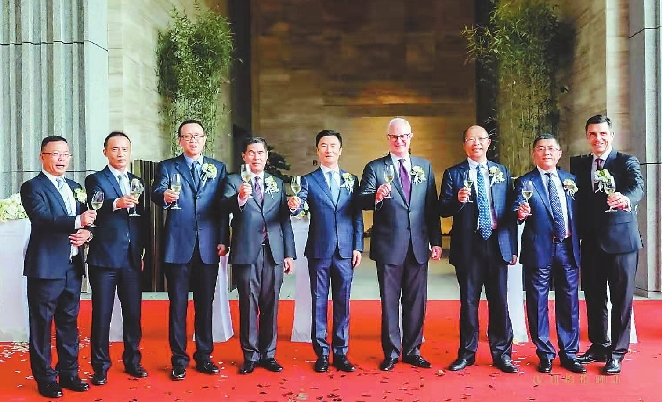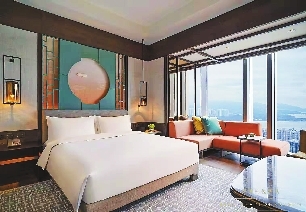 THE new five-star Park Hyatt Shenzhen hotel opened its doors Monday. Situated in the North Tower of the Ping An International Finance Center, the city's landmark building, Park Hyatt Shenzhen sits at 290 meters above ground.
Conveniently located at the heart of the Futian CBD, Park Hyatt Shenzhen is surrounded by world-class office buildings and shopping malls and provides extreme convenience for travelers. The hotel is only three kilometers away from Futian Checkpoint and a mere 5-minute walk to the Shenzhen Convention and Exhibition Center. Nearby are metro stations and Futian Railway Station, which also make it easier for travelers to reach Hong Kong and other parts of Shenzhen.
Designed by Kohn Pedersen Fox Associates, the aerial view of the 48-story hotel building looks like a giant steel-framed butterfly ready to spread its wings and soar to great heights. The elegant interior design has its stylistic roots in the mansions belonging to ancient Chinese literati and scholars. The "courtyards" at different floors are adorned with flowers and plants, where guests can effortlessly forget about all the worries and troubles in their daily lives.
Delicate design
The hotel features 195 spacious guestrooms including 24 suites with sizes ranging from 48 to 300 sqm, spanning from the 36th floor through the 44th floor. By blending in a more Chinese-style interior design, the hotel offers a comfortable and intimate safe space for guests. Furthermore, the corridors and passages leading to each room are decorated with cloud-patterned carpets, allowing guests to enjoy the breathtaking views of the city skyline from the minute they step into the guestroom. Guests can even appreciate the view of Shenzhen Bay from some of the guestrooms. All rooms and suites are decorated in a soft, calming pale-brownish and ocher tone, garnished with azure ornaments. Every single fitting and decoration fits perfectly together, from artwork figurines, bedside chandeliers and to the mini-bar with Chinese cabinets.
In the Asian-inspired bathrooms, there are large double wash basins set on marble countertops and toiletries from the famous American fragrance brand, Le Labo. Apart from that, a separate shower room and an automatic hand-washing machine provide guests with extra comfort and privacy.
Refined cuisine
There are five restaurants and bars at the hotel, offering guests a wide selection of cuisines including European delicacies, Cantonese dishes, Sichuan cuisine and elegant afternoon tea. With an international team of experienced chefs, the hotel prides itself in its refined cooking skills, its sophisticated process of selecting fresh and healthy food materials, and its commitment to presenting guests with an extraordinary feast of exquisite food and drinks.
Social spaces
The hotel has a total 1,500 sqm of meeting rooms and banquet rooms, including a grand ballroom and nine multi-functional rooms. Perhaps the most eye-catching is the 500-sqm grand ballroom with panoramic floor-to-ceiling windows, which allow guests to enjoy the sunshine and a full view of the city. The nine small and medium-sized meeting rooms ranging in size from 55 sqm to 250 sqm, inherited a diverse and private mansion design style. The spacious conference space is an ideal place for holding business meetings, academic discussions, themed parties, and other events and activities.
A rest for your soul
The SPA Center on the eighth floor is the best place for relaxation with five separate single therapy rooms, double therapy rooms and a therapy suite. By blending Chinese and Western physiotherapy techniques, the hotel aims to create an oasis of healthy lifestyle options away from the hustle and bustle of the city. The 25-meter-long indoor swimming pool and well-equipped fitness center allow guests to exercise in peace and tranquility.
(Peng Zhuwen)