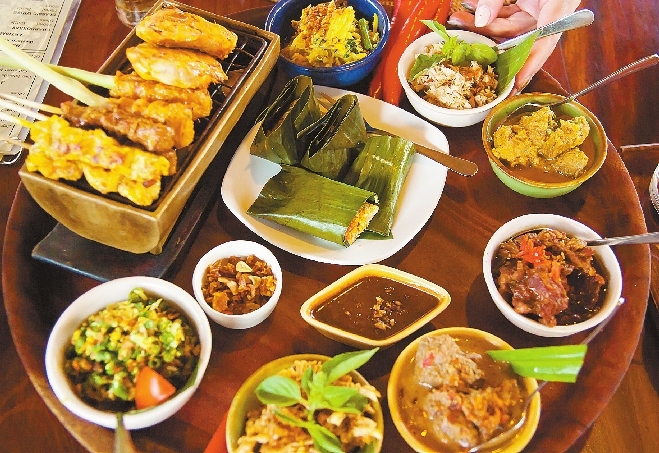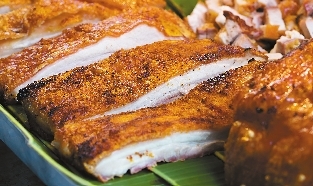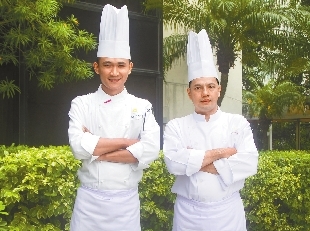 THE living postcard of Indonesia, Bali, is a paradise for all visitors. On the tropical island you will enjoy not only the famous white-sand beaches and deep-blue sea, but also delicious Balinese cuisine. From this Saturday through Aug. 24, two guest chefs from Bali will be invited to Shangri-La Hotel, Shenzhen for a Balinese food festival at the hotel's all-day dining restaurant Coffee Garden.
Chef Irwanto and his assistant Deni Arif Sulistianto, both Indonesians, are from Shangri-La Hotel, Surabaya. With 17 years of experience at five-star hotels and resorts, Irwanto is known for using various ingredients and innovations in his Balinese dishes.
Bearing many characteristics of the tropical weather and the local cuisine culture, Balinese food features the use of a rich variety of spices, curry, herbs and fresh fruits, which is typical in many other Southeast Asian countries.
Signature Balinese dishes include Ayam Betutu, meaning "baked chicken wrapped with banana leaf," which is an iconic Balinese delicacy. To prepare, the inside of the chicken is filled with traditional Balinese spices and wrap ped with banana leaves. The chicken is made tender and flavorful by the spices and fresh banana leaves.
Balinese roasted suckling pig is another must-try. The pork is grilled with charcoal and tastes very crispy. Also recommended is klepon Bali, or poached sticky rice with grated young coconut and palm syrup, which leaves a lingering fruitiness and sweetness on your taste buds.
During the promotional period, Balinese food is available at both lunch time and dinner time. The food festival is co-organized Shangri-La Hotel, Shenzhen, the Indonesian Consulate and Nice Tour Travel Agency. On Aug. 24, every guest who joins the Balinese food festival will have the chance to win wonderful prizes in a lucky draw, including a four-night stay in Bali for one person plus round-trip airline tickets, a two-night stay at a Shangri-La sister hotel, Balinese snacks and more.(Tang Li)