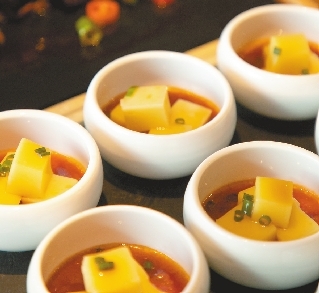 FROM now until Sept. 30, Hyatt Regency Shenzhen Airport will take guests on a culinary journey through their menu to Shaanxi Province that features such traditional Shaanxi delicacies as the shredded cakes in mutton and the beef soup with chewy cold noodles. Every dish is bound to be a treat for both your eyes and taste buds.
The hotel is inviting two guest chefs, Ken Zhang and Albert Liu from Hyatt Regency Xi'an, to present foodies in Shenzhen with the most splendid and authentic food culture from the ancient province.
The recommended specialties are the Qishan saozi noodles with minced meat, which is famous for its spicy, sour broth, thin noodles and savory fragrance; the braised beef brisket with potatoes, which is rich in protein and therefore good for tendon and bone health; the Shaan'xi-flavored roast lamb legs, which is crispy outside, juicy inside and loved by all ages; the small pork ribs; the fried mung bean jelly, which is a hand-made delicacy with a salted spicy taste; as well as the crispy gourd-shaped chicken, which originates from the period of Emperor Xuanzong in the Tang Dynasty (685-762).
Other highlights include the honey and osmanthus-coated cold rice dumplings, the Shaanxi-style ravioli in sour and spicy soup, and the fresh-cooked crayfish by chefs on-site.
Local and international cuisine including sushi, hot dishes, desserts and various roasted meats are also available at the restaurant.
The special Shaanxi cuisine festival is open from 5:30 p.m. to 9:30 p.m. from Mondays to Sundays at 298 yuan per person with a 15 percent service charge. Or, guests can make reservations one day in advance on Meituan.com or the hotel's online store on WeChat at a price of 239 yuan per person.(Yang Mei)