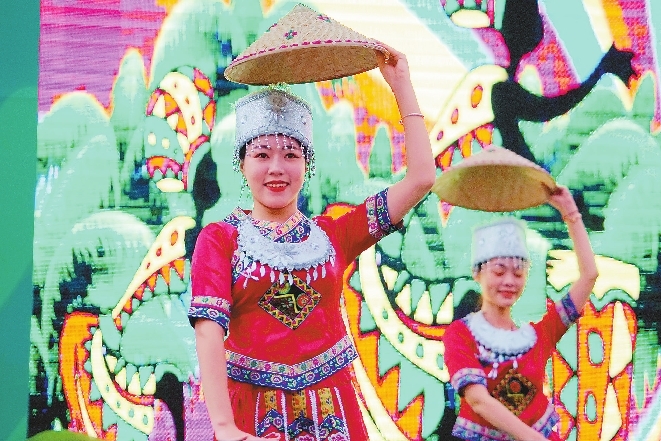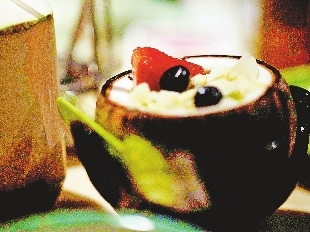 Wang Haolan
Holly_cn@163.com
WHILE the popularized image of coconut chicken restaurants is inextricably connected to tropical plant motifs, bamboo furniture and green clay-glazed utensils, the everlasting Hainanese summer is presented by the Four-Season Coconut Grove Restaurant in a more animated and modern way.
A coconut festival and an illustrative exhibition on the renewed concept of coconut catering are being held at the Nine Square shopping center in Huaqiangbei to mark the brand's upgrade from August 24 to September 8.
The free-range chicken "Jojo" and coconut "Coco," who are the animated mascots of the restaurant, were released at a promotional event held at the location of the exhibition on August 25. The mascots represent the two major ingredients of coconut chicken - a hot pot-like dish that is one of the most representative cuisines of Hainan Province.
"In Hainan Province, coconuts are dubbed 'the fruits from the heaven' by the local people, as they are picked up from the story-high coconut trees, and so natural coconut juice is also seen as 'the beverage from the heaven.' It's safe to say the combination of coconuts and free-range chicken from Wenchang City is a heavenly match," said Fu Cewan, vice mayor of Wenchang City, Hainan Province.
Free-range chicken served at the restaurant is boiled with natural mineral water and the purified juice of four coconuts at different stages of maturity for a relatively sweet and light texture.
The popular hot pot side dishes including shrimp paste, sliced beef and bamboo fungus pair perfectly with the coconut soup base.
The restaurant also has a beverage bar serving up desserts such as green coconuts, coconut jelly and coconut ice cream.
Fairgoers can play games at the exhibition to win merchandise of the Four-Season Coconut Grove Restaurant mascots and dessert coupons as well as purchase green coconuts and coconut ice cream at a discount.
Established in 2013, the Four-Season Coconut Grove Restaurant has opened over a dozen branches in Shenzhen, offering residents an exotic way to experience a healthy and traditional hot pot option.
Dates: Until Sept. 8
Add: Restaurant: 4/F, Huaqiangbei 9 Square Shopping Center, 1 Zhonghang Road, Huaqiangbei Subdistrict, Futian District (深圳市福田区华强北街道中航路1号九方购物中心华强北店4楼)
Exhibition: 2/F, Huaqiangbei 9 Square Shopping Center, 1 Zhonghang Road, Huaqiangbei Subdistrict, Futian District (深圳市福田区华强北街道中航路1号九方购物中心华强北店2楼中庭)
Metro: Line 1 to Huaqiang Road Station (华强路站); Line 2 or 7 to Huaqiang North Station (华强北站)