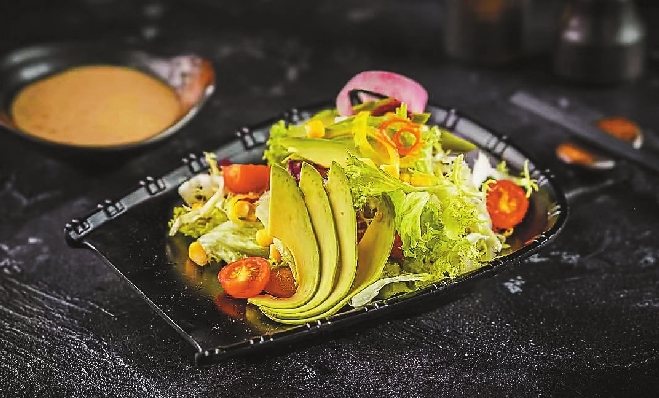 TUCKED away in a secluded corner on the first floor of the picturesque Marriott Hotel Golden Bay on Dapeng Peninsula, the newly opened Chuan Japanese restaurant offers a refreshing choice for health-minded gourmets.
Red paper lanterns over wooden tables and seats, Japanese-style paintings hanging on the walls, big smiling maneki-nekos and bonsais – every little decoration in the small, quiet restaurant is reminiscent of an izakaya one would stumble upon in an alley in Tokyo.
Waitresses in cotton cloth uniforms featuring a kimino neckline and sleeves welcome guests with a genuine smile, hair bundled up into a bun on the back of their heads. With seven tables in the restaurant and four more on the veranda facing the garden, the new place offers an ideal setup for a rendezvous with loved ones or an amiable dinner with business partners.
On the menu are lots of choices – though not too fancy – that represent the quality of Japanese cuisine. Fresh seasonal vegetables and avocado salad is served on black pottery plates, accompanied by sesame sauce dressing.
Other choices for salads include okra and yam, and jellyfish slices with seaweed and sesame, all crisp and refreshing. Salmon, tuna, arctic clams and other seafood are served raw as sashimi or in sushi. Seafood and vegetables are also deep-fried in a light batter as tempura. The shrimp tempura, about the length of a grown-up's palm, is yummy with the crisp outside and the tender texture of the shrimp inside.
True to its name, there are plenty of grilled meat and seafood chuan on sticks that diners can order by small portions. One popular item is chicken grilled with bunching onion on sweet soy sauce; another is asparagus wrapped in streaky pork slices grilled just to the point that it tastes tender and juicy.
The must-have is their eel rice bowl with homemade eel sauce, presented in a delicate wooden box. Thick slices of juicy eel are served on top of cooked rice with pink marinated ginger slices and seaweed, the eel sauce soaking into the rice and giving it a rich flavor.
Apart from the dishes carefully prepared from exceptionally choice ingredients, the restaurant also offers a wide variety of Japanese sake, some rare to be found elsewhere in town.
Venue: 1/F, Shenzhen Marriott Hotel Golden Bay, 33 Zonglyu Road, Dapeng New District
Tel: 2839-8888(Debra Li)