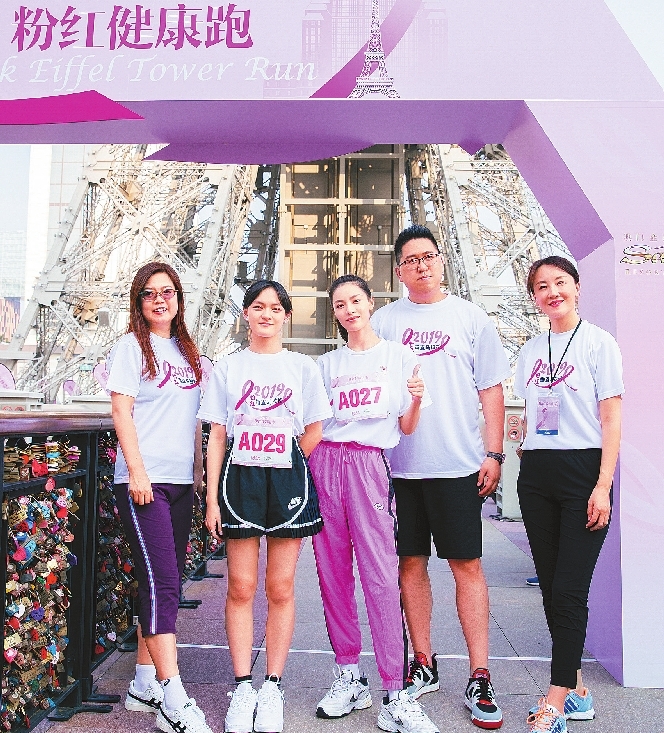 SANDS Resorts Macao has partnered with leading Chinese media organization Trends Health magazine to host a charity fun run up The Parisian Macao's half-scale Eiffel Tower. The event was part of the month-long "Pink Inspired" campaign, held throughout October, which includes pink-themed promotions and events across the resort aimed to increase public awareness and support breast cancer research.
The run required participants to climb 750 steps of The Parisian Macao's Eiffel Tower replica. The event, which was followed by a cocktail party and a special Eiffel Tower pink lighting ceremony, was attended by Chinese actresses Zhong Chuxi and Wen Qi.
More than 150 participants took part in the run, including members of local community groups, celebrities, Trends Health-honored industry association alliance guests and media personalities as well as Sands Resorts Macao team members.
"Sands China Ltd. is very committed to supporting worthwhile causes. Breast cancer is something that touches everyone at some point, and we all know someone that has been affected by this disease," said Donna Campbell, executive director of public relations at Sands China Ltd.
"Early detection of breast cancer means that more than 90 percent of cases can be effectively treated. Therefore early detection, early prevention and early treatment are crucial to battling this disease and are all closely related. Let's work together to make this a reality."
Trends Health magazine is part of Trends Group, a leading media company based in Beijing. The magazine focuses on health and fashion, and every October reports on activities taking place as part of global Breast Cancer Awareness Month.
(Maggie Tang)