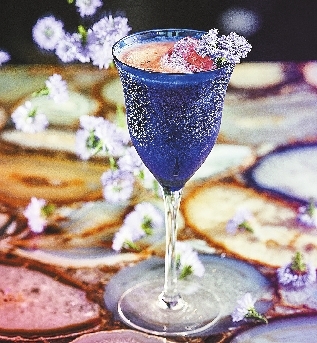 FOUR Seasons Hotel Guangzhou is elevating the art of the cocktail in collaboration with Hope and Sesame, one of the Best 50 Asian Bars this year. Guests who want something other than a traditional cocktail at the hotel's Tian Bar can order a specialty drink from the flower-inspired menu made by the onsite bartender specially trained by Hope and Sesame.
Inspired by the "City of Flowers" concept for which Guangzhou is known, Tian Bar presents a modern flower-centric cocktail menu that intertwines art and creative cocktails, taking guest on a journey of visual and flavorful indulgence.
The Golden Chrysanthemum, one of the signature cocktails highlighted on this floral menu, is infused with luscious chrysanthemum syrup and bitter Fernet Hunter; its depth of flavor is only emphasized by a dash of aromatic champagne vinegar.
The Esmanthus employs two classic rums, Flor de Cana 7 Years Reserva and Lemon Yaguara Branca Cachaca to elevate its subtle osmanthus flavors; caramel and smoke also make it an artfully balanced and refreshing cocktail for a perfect summer night.
Apart from six signature cocktails and two mocktails on this new menu, Tian Bar also presents eight classics from the regular menu, savory tapas, and a selection of cheeses, sweets and more.
Located on the 99th floor of Four Seasons Hotel Guangzhou, Tian Bar offers a spectacular view of the city skyline. Cut from a single piece of rare multicolored agate, the bar serves as an excellent conversation-starter at the cocktail lounge. Also known in Chinese as Miaoqian Bingshi (庙前冰室), Hope and Sesame, opened in February 2016, is the first speakeasy cocktail bar in Guangzhou. Tucked away behind a traditional Cantonese cafe in the quaint neighborhood of Dongshankou, the bar is a unique testing grounds for cocktail innovation.(Maggie Tang)