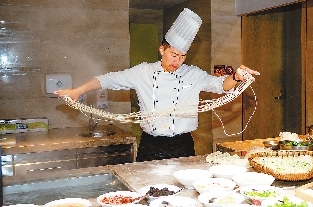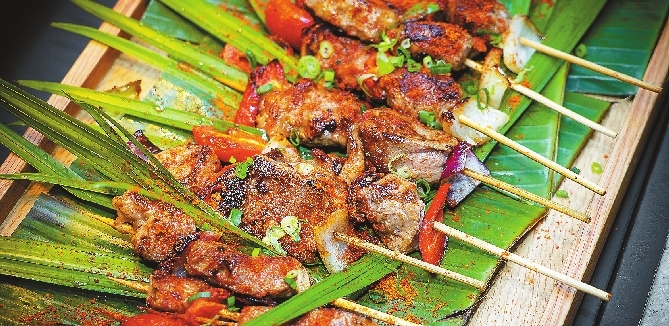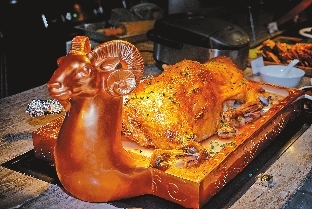 UNTIL next Tuesday, meat lovers can relish an authentic lamb feast at Shenzhen Marriott Hotel Golden Bay, where an ongoing Ningxia Food Festival features lamb and other succulent ingredients airlifted from the Northwest China region prepared by chef Wu Haifeng from Hotel Sheraton Yinchuan.
Two elegant sheep taxidermies welcome guests at the gate of the hotel's all-day dining venue Golden Bay Kitchen, with floor-to-ceiling windows letting in the breathtaking sea views.
Beach sheep, Ningxia's well-known staple, is exceptionally delicate and cooked in various ways.
The most eye-catching course is a whole roast sheep mounted on a rectangular plate that comes with a vivid sculpture of a sheep head. First marinated with a special sauce, the lamb is roasted on a grill with delicately controlled temperatures so that the outside is crispy and the inside is tender.
Roast choice lamb ribs are served with sliced buns, with a rich flavor and texture that will satisfy the pickiest gourmets.
There are also roast lamb legs and lamb ribs steamed in clear soup, retaining the original flavor of the meat.
A popular dish is the nourishing lamb chop soup, cooked with carrots, green turnips, Chinese dates and wolfberries, where the meat is tender and delicious.
Kebab fans must try their Shalihai-style roast kebabs, with the juicy mutton chops served on a stick with onion and red bell pepper.
Apart from traditional Ningxia-style pumpkin pancakes, Wu will also be stretching noodles by hand in the open kitchen for guests.
Watching his skilful performance with the noodles dancing in his fingers, and waitresses donning traditional Hui ethnic dresses as well as a cap and veil passing by, one will for a second feel as if they have actually come to visit Ningxia on the Silk Road.
After a hearty meal is the perfect time to try the Ningxia Babao (eight-treasure) tea, with rose flowers, Chinese dates, dried longan fruit, wolfberries, licorice roots, sesame seeds and a local tea served in a porcelain cup.
Salad, seafood, sushi, stir-fried vegetables, desserts, fruits and beverages are also served as a regular part of the dinner buffet.
Price: 398 yuan per adult, inclusive of VAT and service charge. Marriott Bonvoy members can enjoy 30 percent off.
Time: Until next Tuesday (Nov. 5)
Tel: 2839-8888 ext. Golden Bay Kitchen
Venue: 1/F, Shenzhen Marriott Hotel Golden Bay, 33 Zonglyu Road, Dapeng New District(Li Dan)