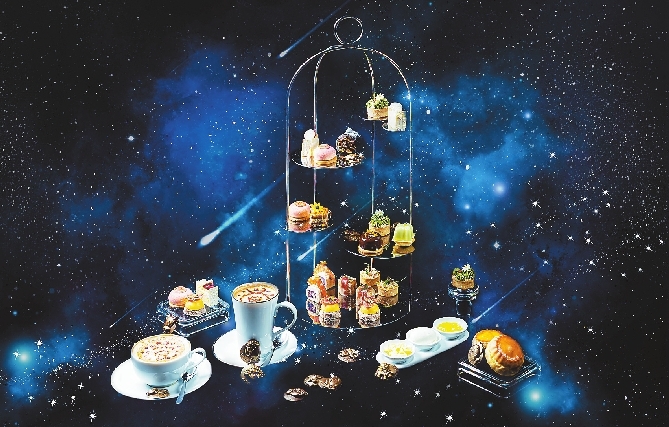 SHENZHEN Marriott Hotel Nanshan has recently launched creative constellations-themed afternoon tea sets which integrate the characteristics of the 12 constellations of the Western horoscope into custom-made delicacies, encouraging guests to explore the mysteries of the cosmos while indulging in afternoon tea.
The hotel's pastry team spent two months delving into constellation aesthetics, combining the attributes of the starry constructs with desserts and liaising each piece of refreshment with star-inspired conceptions. The afternoon teas are divided into four series according to each horoscope element, including the fire sign, the earth sign, the wind sign and the water sign.
Fire sign constellations — Leo, Aries and Sagittarius — are matched with such desserts as the caramel sea salt cream hazelnut cake, raspberry cheesecake, and cream pumpkin mousses with crispy salami.
Earth sign desserts include the fresh crab meat tart with coconut juice and capers, plain scone and flavored scone and red wine cherry chocolate mousse, matching Virgo, Taurus and Capricorn.
Air and water signs are also matched with respective themed delicacies.
The set also offers customized coffee according to the horoscope signs of the guests. The Lounge is located on the 43rd floor of the hotel, where guests can enjoy a panoramic view of Nanshan District and Shenzhen Bay.
Dates: Until Nov. 30
Add: No. 88, Haide Road 1, Nanshan District, Shenzhen(Tang Li) The constellations-themed afternoon tea sets.