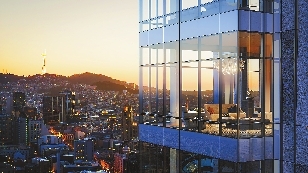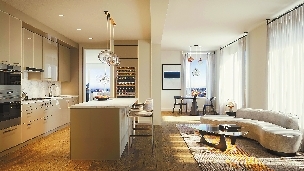 FOUR Seasons Hotels and Resorts, the world's leading luxury hospitality company, and 706 Mission Street Co. LLC, an affiliate of Westbrook Partners, has announced Nov. 1 in Shanghai the development of 146 Private Residences located in the heart of San Francisco's vibrant Yerba Buena arts and cultural district at 706 Mission Street.
Slated for completion next year, Four Seasons Private Residences at 706 Mission Street, San Francisco will combine spacious living and distinctive elegance with legendary Four Seasons personalized services.
Taking its place in the city's cultural center, steps from San Francisco Museum of Modern Art, the Contemporary Jewish Museum, Yerba Buena Center for the Arts and a host of other cultural destinations, the residences will comprise two towers of 45 and 10 stories high, overlooking Jessie Square.
The new building will be made of stone and glass and contain 146 spacious residences with stunning views of downtown and the San Francisco Bay. The historic Aronson Building, dating back to 1903, will be completely restored and repurposed as part of the project. Notable upgrades include refurbished wood-sashed windows, reworked terra cotta materials, and more exposure of the inner structures of the ceiling slabs.
"Juxtaposing the new and the historic has provided us with a wealth of architectural opportunities," said Glenn Rescalvo, principal of Handel Architects, the project's designer. "We embraced the opportunities for more spacious, individuated residences, with fewer homes per floor and a much greater mix of floor plans. These residences are much more like custom designed homes than condominium units."
The guiding design principles include the creation of a dramatic entryway, grand corner living rooms with at least two walls of floor-to-ceiling glass, defined dining areas, adjacent yet private informal family areas, large kitchens positioned to serve as the heart of each home, master bedrooms with breath-taking views, large light-filled master baths, in-home offices and guest bedrooms with in-suite baths. Most residences will range in size from 2,800 square feet (260 sqm) to more than 4,000 square feet, with between two to four bedrooms each.
The residential experience will also include an amenity floor on the building's fifth level. (SD News)