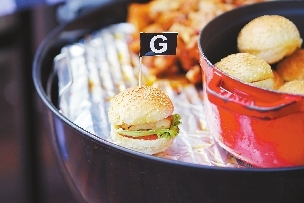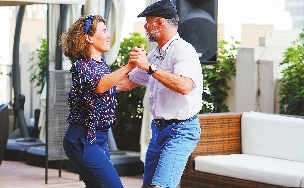 Wang Haolan
Holly_cn@163.com
STRIPED blouses, straw hats, brunches and musette music not only comprised the lifestyle of fashionable Francophiles in the 1950s but also make a perfect Sunday party at the outdoor terrace on the 10th floor of Residence G Shenzhen.
Members of the band Swing of France, namely guitarist Thomas Le Briz and accordionist Erwan Mellec, performed a repertoire of traditional French musette music prevailing from the '30s to '60s at Sunday's event, which matched perfectly with the midday-sunshine, casual toasts between goblets filled with rosé and improvised movements of waltz. After plenty of chicken burgers, egg benedicts and German sausages, foreign occupants of the property and media outlets rose from their seats to dance, as they would have decades ago on sunny Parisian streets.
The property also hosted a collection of interactive games and screened Audrey Hepburn's movie "Roman Holiday" to set the mood at the annual party Sunday.
As the only property in South China that has an outdoor terrace, Residences G Shenzhen can satisfy differentiated needs for annual parties, family gatherings and friend meetups. Reservations for the event have opened and will run until Feb. 9, 2020. A catering team, seasonal decorations, family cinema equipment and recreational props were offered in the package for revelers looking to customize their parties.
Residence G is a hotel apartment complex offering different accommodation options for short-term visitors and long-stay occupants, including en suite rooms and studios and suites of one to three bedrooms — all furnished in a loft style.
The property offers free breakfast for the guests and hosts brunch events on its outdoor terrace every weekend. A variety of amenities, such as a gym, an indoor swimming pool, a table tennis court and an indoor children's playground, together with complimentary sports classes, are available to the guests in order to bring more enjoyment to their life away from home.
Tel: 8663-7888 ext. 8889
Add: 4078 Dongbin Road, Nanshan District, Shenzhen (深圳市南山区东滨路4078号永新汇深圳G公寓)