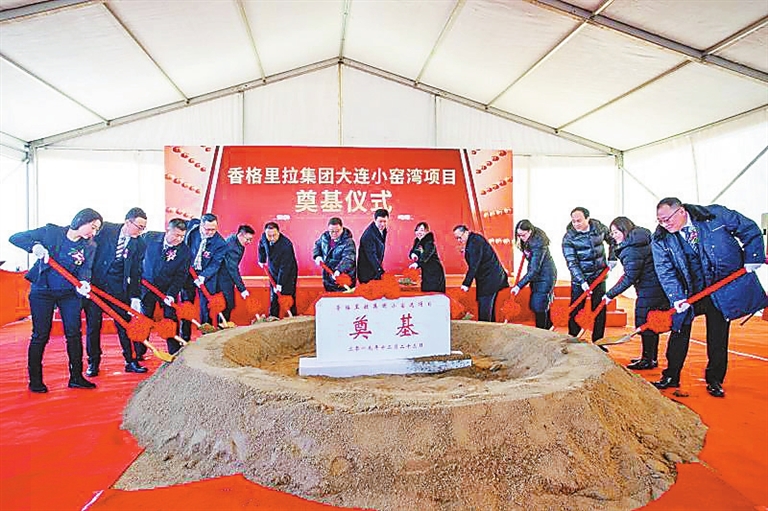 SHANGRI-LA Group on Monday announced that it is breaking ground on a new development project at Xiaoyao Bay International Business District in Dalian, Liaoning Province. This is the group's second investment project in the city after the Shangri-La Hotel, Dalian and Residences.
Monday's ground-breaking ceremony was conducted by Sunny Paw, deputy chief executive officer of Shangri-La Group in North China, and Dalian's Vice Mayor Jin Guowei.
Shangri-La Group's plan for the new project is on the heels of the city's development plan. Xiaoyao Bay International Business District, which is located on the shore of the Yellow Sea, was officially named a key economic zone in 2011. It is earmarked to become a modern central business district that brings together corporate headquarters, logistics hubs, financial institutions, port and shipping services, and a new urban ecology.
Located at the heart of Xiaoyao Bay and next to the municipal park, Shangri-La's development project spans a total area of 47,000 square meters and has a construction area of around 170,000 square meters. Designed to provide high-quality products and services for Xiaoyao Bay, phase one of the project will include a luxury hotel and residential development.
For many years, Shangri-La Group has been an active participant and supporter of development and construction in Dalian. In 1997, Shangri-La Hotel, Dalian and Shangri-La Residences opened its doors, becoming one of the first five-star international hotel brands to set up base in Dalian. In 2012, Shangri-La Residences underwent renovation.(SD News)