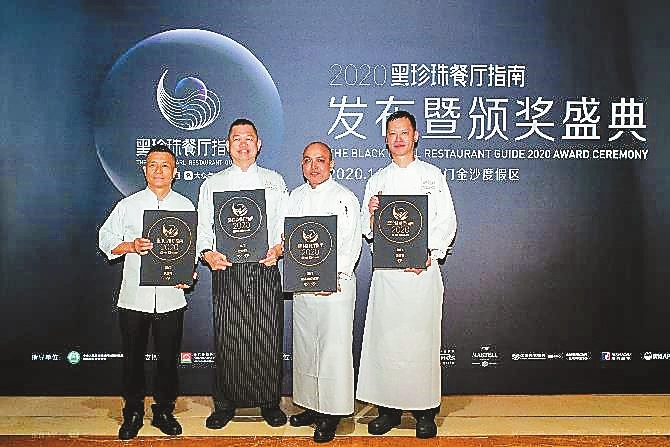 THE 2020 Black Pearl Restaurant Guide awards, the Chinese equivalent of the Michelin Guide, were unveiled in Macao last Thursday. Four restaurants under Sands Resorts Macao have been recognized in the influential awards, the hotel group has announced.
The Venetian Macao's Indian restaurant The Golden Peacock and The Parisian Macao's La Chine again received two-diamond ratings, and Four Seasons Hotel Macao's Zi Yat Heen a one-diamond rating. Meanwhile, The Parisian Macao's Lotus Palace was awarded a diamond rating for the first time at the ceremony.
As part of a series of events linked to the 2020 Black Pearl Restaurant Guide awards, exclusive celebrity chef lunch experiences were also held on The Venetian Macao's Grand Canal over four days between Jan. 9 and 12. The Black Pearl 2020 Gala Dinner also took place at The Venetian Grand Ballroom over three nights between Jan. 9 and 11.
The chefs for the events were all from regions that hold a UNESCO Creative City of Gastronomy status: Macao, Chengdu in Sichuan Province, Shunde in Guangdong Province and Yangzhou in Jiangsu Province. At each lunch and gala dinner experience, guest celebrity chefs collaborated with renowned Sands Resorts Macao chefs, who each contributed their own superb signature dish.
A grand award ceremony was held at Sands Cotai Theater last week, honoring 309 restaurants in 27 cities, including 22 cities in China and five cities abroad. On the list were eight restaurants from Shenzhen, seven of which were selected for the one-diamond category and one for the two-diamond category.
The Black Pearl Restaurant Guide is operated by Meituan and Dazhong Dianping, which are Chinese online group-buying websites, together with a jury composed of famous foodies, culinary experts, food critics and food culture disseminators. It aims to present a select fine Chinese restaurant guide to satisfy Chinese taste buds. The guide has three grades: one diamond, two diamonds and three diamonds. The more diamonds, the better the restaurant is.(Tang Li)