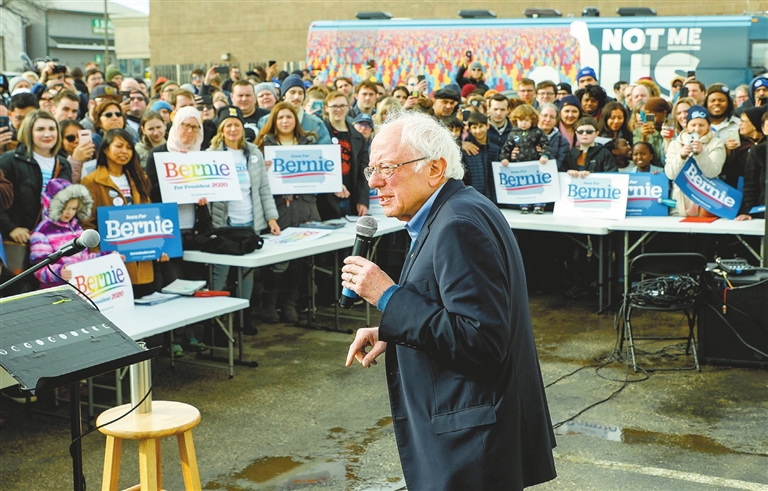 BERNIE SANDERS won the New Hampshire Democratic primary Tuesday, closely followed by moderates Pete Buttigieg and Amy Klobuchar.
The Vermont senator led at 26 percent with nearly all votes counted, followed by former Mayor Buttigieg on 24.4 percent and a resurgent Klobuchar, the senator from Minnesota, on 19.7 percent.
While Sanders led on the popular vote, he and Buttigieg took nine delegates each — putting the 38-year-old former mayor at the front of the Democratic field in terms of delegates after two nominating contests.
Senator Elizabeth Warren and former Vice President Joe Biden trailed in a distant fourth and fifth respectively on single digits — neither will pick up delegates in the Granite State.
Both Andrew Yang and Michael Bennet have quit the race after failing to make an impression in Iowa or New Hampshire, while Deval Patrick is expected to suspend his campaign yesterday.
Vermont senator Sanders won the popular vote by under 2 percentage points in his neighboring state, which he invested in heavily and took by over 20 points in 2016, after facing a challenge from moderates whose vote was split.
"We're going to unite together and defeat the most dangerous president in the modern history of his country," Sanders said in his victory speech, before making oblique criticisms of Buttigieg, who was booed by the Vermont senator's supporters.
The strong performance from Klobuchar in Friday's Democratic debate appears to have cut into support for Buttigieg, who has been on an upward surge after winning the most delegates in the Iowa caucuses.
Buttigieg was the target of attacks from Biden and Sanders after his delegate-victory in Iowa, a fate former prosecutor Klobuchar is likely to face in the coming days.
The backing for Buttigieg and Klobuchar in New Hampshire will propel both into the upcoming contests in Nevada and South Carolina, where both are scrambling to organize after focusing on the opening two states.
Buttigieg thanked Democratic voters for backing "a middle class mayor and a veteran from the industrial west" adding "we go forward to know that this is our chance, this is our only chance."
"Because of you, we are taking this campaign to Nevada," Klobuchar told supporters as the results came in. "We are going to South Carolina. And we are taking this message of unity to the country."
The results marked a disappointing night for Warren and another dire performance for Biden, the former vice president who has staked his campaign on electability but finished fifth in New Hampshire after coming fourth in Iowa.
The 77-year-old left New Hampshire before voting ended, traveling to his "firewall" state of South Carolina. (CGTN)