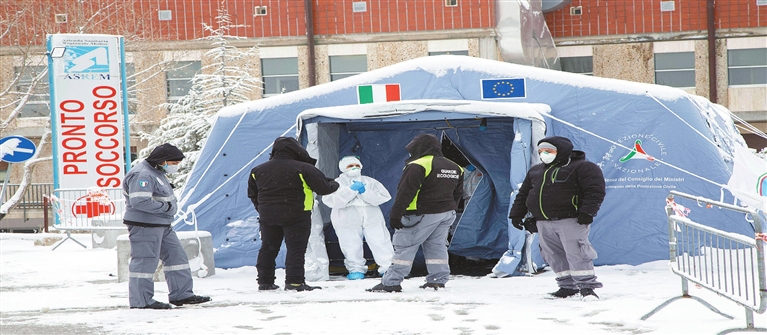 THE coronavirus pandemic has claimed 6,820 lives in locked-down Italy by Tuesday with the cumulative number of cases reaching 69,176, according to new data released by the Civil Protection Department.
Speaking at a televised press conference, Civil Protection Department Chief Angelo Borrelli said Italy reported 5,249 new cases of coronavirus and 743 new deaths Tuesday and that 54,030 people are currently positive for the coronavirus, one month after the pandemic broke out in northern Italy on Feb. 21.
Of those infected, 28,697 are in isolation at home, 21,937 are hospitalized with symptoms, and 3,396 are in intensive care.
Meanwhile, a total of 8,326 patients have recovered, said Borrelli who is also the national commissioner in charge of the coronavirus emergency.
The numbers are up from an official tally Monday evening of 50,418 active infections, 6,077 deaths, and 7,432 recoveries.
Borrelli also confirmed that former Civil Protection Department chief Guido Bertolaso has tested positive for the virus.
In a televised press conference earlier Tuesday, Extraordinary Commissioner for the Coronavirus Emergency, Domenico Arcuri, announced that Italian fashion companies have agreed to produce "50 million face masks per month."
On Tuesday, restrictions were tightened in France to bolster a lockdown that was imposed last Tuesday. Under the new rules, French citizens who do want to travel will need to fill in a document explaining their reasons for doing so and carry it with them. If they are found to have violated the instruction, they risk being fined up to 135 euros (US$145).
U.K. Health Secretary Matt Hancock announced Tuesday that the Excel center in East London will be converted to a temporary hospital.
He also said almost 11,800 retired medics will return to join the NHS workforce.
The U.K. Government has now purchased 3.5 million antibody test kits to meet the increasing demand for COVID-19 testing. (Xinhua)