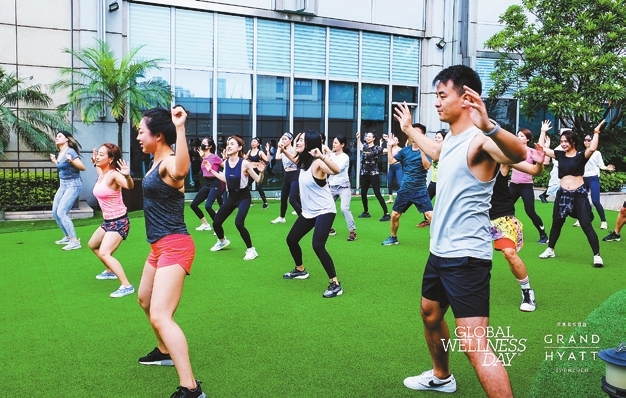 IN celebration of Global Wellness Day, which fell on June 13, a series of morning wellness activities including a Zumba session was held that day at Grand Hyatt Shenzhen with the collaboration of the athletic apparel retailer lululemon athletica.
"Caring for your wellbeing" is a philosophy that Hyatt is trying to promote to encourage people to live a healthier lifestyle. Living a sustainable lifestyle is also the core value of Global Wellness Day, which was established in Turkey in 2012. Now, it has been accepted worldwide as an entirely not-for-profit day and as a social project dedicated to living well. With the slogan, "One day can change your whole life," we celebrate Global Wellness Day on the second Saturday of June every year.
In collaboration, Grand Hyatt Shenzhen and lululemon planned an energetic morning, to lead participants to enjoying a healthier day. Following with the lead of the guest Zumba coach invited by lululemon, all the participants got in tune with their bodies and were drawn in by the melodic beats of Zumba.
After becoming thoroughly dripping wet, a calm meditation session helped everyone gradually enter a deep state of relaxation. Upon completion of the sessions, a pre-set healthy buffet breakfast, including freshly baked Italian vegetable omelets, smoked salmon sandwiches, mixed berry yogurt oatmeal cups and fresh fruit juice, was offered to everyone to replenish their energy.(SD News)