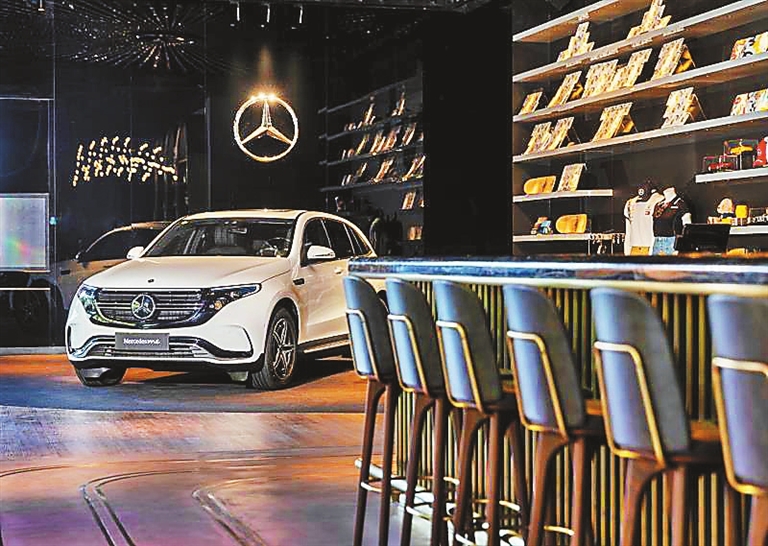 THE Mercedes me restaurant, being a part of the Mercedes me Store in Nanshan District, has launched a new menu for the festive season. Using quality ingredients, chef James Chen continues making innovations while retaining the fresh and original flavors, bringing new culinary experiences and more choices for diners who love creative food.
The restaurant serves Western dishes featuring beef dishes using high-quality beef cooked in various styles. The signature dish, the 45-day dry-aged Tajima Wagyu, makes use of Wagyu beef that is dry-aged for 45 days. The beef has a very rich taste, being layered, soft and creamy in the mouth.
A must-try in the menu is the premium caviar, which should be tasted using a shell spoon. Imported caviar is served with egg white and egg yolk, accompanied by traditional sour cream, chopped onion and French onion, which are all stirred well and put on the bread slices.
For the seafood, the Maillard scallops are recommended. Fresh scallops are slightly marinated with sea salt and pepper, before being fried with olive oil. They are served with pureed cauliflower and bacon crumbs and give out a refreshing and relieving flavor.
Other recommendations include the seafood bisque, fried foie gras, and the M. E. salad.
The 900-square-meter Mercedes me Store in Nanshan, the fourth of its kind in China, is a lifestyle experience space that combines food and wine, boutique retail, and a car display including a test drive, all creating a new world of enjoyment for Shenzhen's hipsters. Whether you are a Mercedes-Benz customer or not, you can get to know the brand's culture and the history of Mercedes-Benz.(Tang Li)