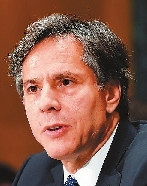 THE U.S. Senate Foreign Relations Committee on Monday voted to approve U.S. President Joe Biden's nomination of Antony Blinken to serve as the next U.S. secretary of state.
The Senate panel approved Blinken's nomination by a vote of 15-3, sending it to the full Senate for final confirmation. Three Republican senators voted against the nomination.
During his confirmation hearing last week, Blinken proposed changes to the previous administration's foreign policy on Iran and arms control.
Blinken, 58, served as deputy national security advisor and deputy secretary of state under former President Barack Obama.
As a close aide to Biden for nearly two decades, Blinken was one of Biden's first Cabinet picks.
Also Monday, the Senate voted to approve Biden's nomination of former Federal Reserve Chair Janet Yellen to be the next U.S. treasury secretary, making her the first woman to hold the job.
Yellen, a 74-year-old economist, will also be the first person to have served as treasury secretary, chair of the Council of Economic Advisors, and chair of the Federal Reserve after the Senate confirmed her nomination by a vote of 84-15.
"I am so proud that the Senate will confirm Dr. Janet Yellen to be the first woman to ever hold the position of Treasury Secretary. She's a native of working-class Brooklyn, and no one has more experience for this job," Senate Democratic leader Chuck Schumer tweeted before the vote.
At a confirmation hearing last week, Yellen said her first task as treasury secretary will be helping Americans endure the final months of this pandemic and keeping people safe while getting them back to work.
(Xinhua)