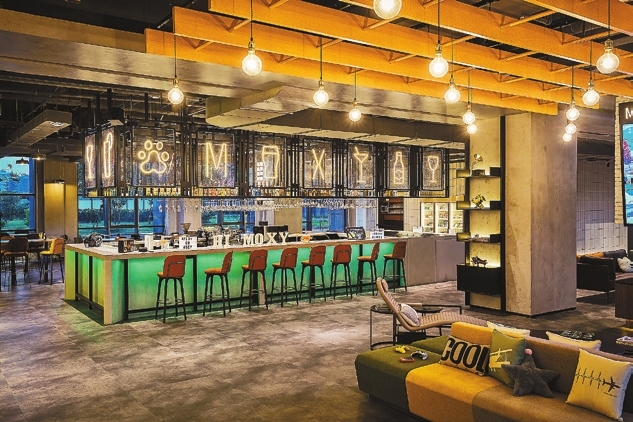 MOXY Shanghai Hongqiao CBD has officially opened its doors, debuting the Moxy Hotels brand on the mainland. Designed for the young and the young-at-heart, Moxy Hotels — part of Marriott Bonvoy's portfolio of 30 extraordinary brands — enables guests to save on space and splurge on experiences.
The new 158-room hotel's stylish and playful design pays homage to the neighboring Shanghai Hongqiao International Airport and aims to welcome guests with the brand's signature bold spirit by incorporating clever elements from airport terminals into the hotel lobby design.
Upon arrival, guests are instantly welcomed into an immersive stay with check-in at Bar Moxy, complete with a complimentary "Got Moxy" cocktail. Moxy's 24/7 self-service grab-and-go concept gives guests access to what they want, whenever they want, with options including snacks, fresh juice, coffee, wine and beer. Guests can also re-energize at the hotel's 24-hour fitness center that is decked out with a boxing bag, signature racing bike and other equipment. Additionally, the new hotel features a 24-hour ironing room, a signature Moxy amenity, for guests to iron their outfits or socialize with their crew before hitting the town.
The hotel's tech-savvy, modern bedrooms intermix edgy details with functionality and are cleverly designed to maximize space and allow guests the flexibility to adapt the room to their needs. Guests can enjoy smart features from plush platform beds to a full-sized work surface, and peg walls instead of closets.
Moxy Hotels plans to open five additional properties on the mainland in the next year. A vibrant new social scene is set to be introduced at Moxy Shanghai Xuhui, which is slated to open in the cosmopolitan city later this summer. Additional new Moxy hotels are slated to open in Nanjing, Shenzhen and Xi'an within the next 12 months.(SD News)