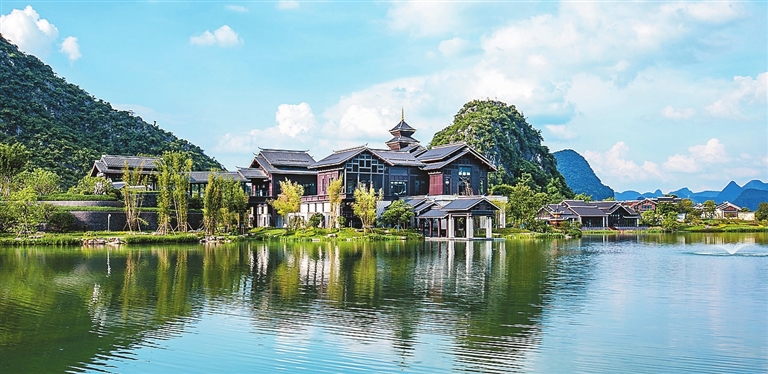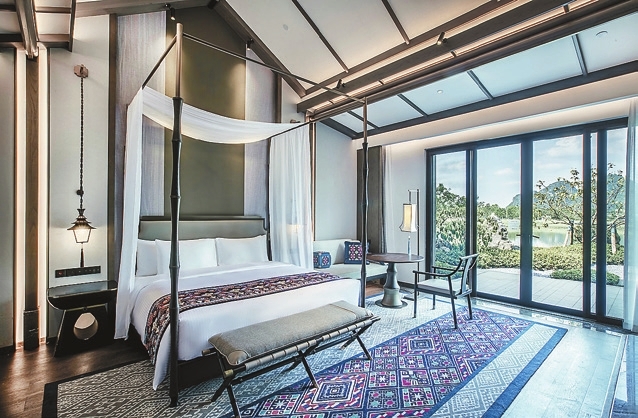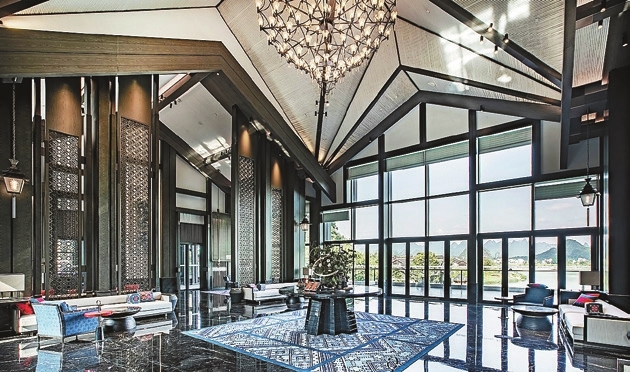 WANDA Vista Guilin has recently opened its doors in the Sunac International Tourism Resort in Guilin, a famous tourist city with picturesque landscapes in Guangxi Zhuang Autonomous Region.
The hotel, an ingenious fusion of cultural elements from the Dong ethnic group, has 108 rooms and villas with panoramic floor-to-ceiling windows or courtyards, which promise guests a private rendezvous with the surrounding landscape.
Adhering to the Wanda Vista brand concept of offering "Pure Oriental Delight," the hotel provides guests with a personalized butler-style travel experience.
On arrival, guests can take a bamboo raft from the waterway dock and go downstream, passing the small bridges and pavilions along the way, to appreciate the unparalleled karst landscape as well as the peaceful and beautiful scenery that are like a poetic painting.
Surrounded by mountains and rivers, the hotel covers a total construction area of 31,000 square meters. The exterior of the building adopts iconic architectural features of the Dong ethnic group, with solemn and elegant color tones and exotic cultural elements.
In terms of design, the hotel resembles a courtyard of the Dong people. The top of the hotel lobby is inspired by the shelter bridge of the Dong group, highlighting the characteristics of the stilt style architectures of ethnic minorities. The lobby is surrounded by panoramic glass walls on three sides and topped with tenon and mortise construction, creating a highly varied spatial experience. If you take a closer look, you will find a large number of Dong brocade patterns and landscape root carvings in its decorations.
The hotel villa complex consists of 99 villas in the style of a Dong village. Each villa has its own courtyard, allowing guests to enjoy a stunning view from the privacy of their spacious rooms.
Three restaurants offer guests a wide selection of dining options. The lobby lounge provides tea and coffee, afternoon tea sets as well as selected drinks and snacks. The Chinese restaurant incorporates the essence of Cantonese and Guangxi cuisines with a focus on local seasonal ingredients. The hotel also has an all-day dining restaurant on the first floor of the main building.
The hotel's conference and banquet facilities are located in the main building, with a total area of 348 square meters, including four multi-functional meeting rooms ranging from 29 to 186 square meters that provide a variety of venue options for meetings and banquets of different scales.
For leisure and fun, guests can go to the hotel's indoor gym and indoor and outdoor swimming pools for relaxation. Guests traveling with children can also choose to experience a variety of children's activities in the children's recreation room and on the outdoor lawn.
(Yang Mei)