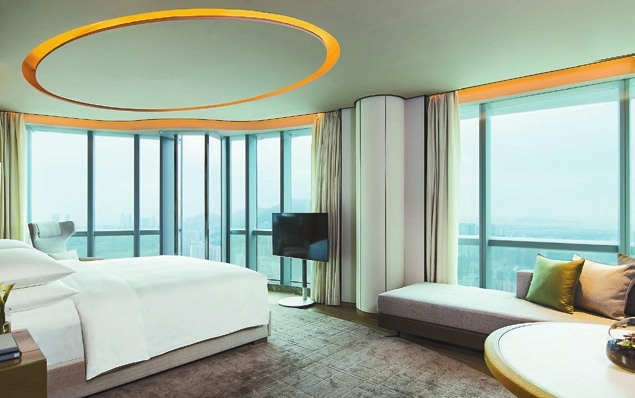 THE rapid pace of the city life has urged young residents to pursue small but certain happiness. It may all be found from a satisfying nap, a meaningful meditation, a smooth yoga, a fragrant aroma, and an unexpected lunch.
As an advocate and practitioner of healthy life, the Shenzhen Marriott Hotel Nanshan takes the initiative to help guests find inner peace in life. Collaborating with popular sports brand lululemon, local mindfulness brand MineSoul, plant-based meat brand STARFIELD and innovative sleep investigator Idealeep, the hotel has managed to create a unique package that combines yoga, meditation, sleep and light food into the whole staycation process.
The newly launched room package includes soothing rose herbal tea and oatmeal cookies provided upon guests' arrival and an Idealeep whisper pillow for a sweet sleep at night. The guests can play the MineSoul sleep-aiding audio via the mobile phone to fall into a deep sleep. Up in the morning, a healthy light meal of fruits and vegetables smoothies are provided during the breakfast, and when back in the room, the guests can exercise with lululemon yoga equipment.
The room package allows guests to stay in the executive studio, where they can enjoy the city's skyline and a fascinating view of the Shenzhen Bay. Executive Lounge service is also available for guests to enjoy a convenient stay from check-in to check-out.
At an offline event recently held at Shenzhen Marriott Hotel Nanshan, a collection of activities were carried out revolving around the theme of revival and rejuvenation, conveying a concept of "Inspiring Stay Experience by Marriott" to all guests. The activities included a display of the making of fruit and vegetables smoothies, the sharing of the brand concepts of MineSoule and Idealeep, awakening lectures of lululemon professional yoga teachers, and elite life and environmental protection product introductions by Je Sens, Sisley and STARFIELD.(SD News)