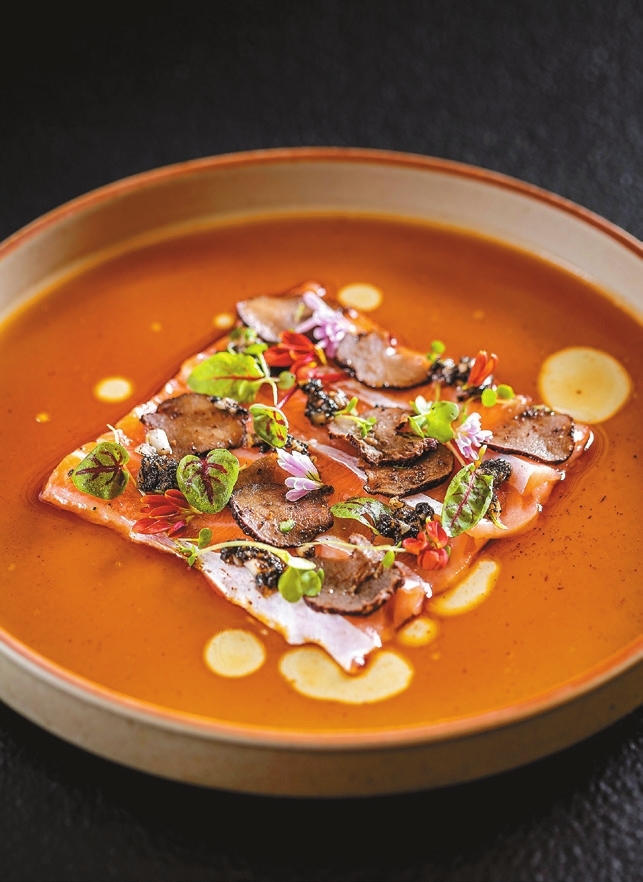 KENETH KIM, the chef at the Kumoi restaurant in Four Seasons Hotel Guangzhou, is presenting his debut menu to gourmets, featuring a gastronomic collection of rigorous Kaiseki craftsmanship and modern fusion cuisine.
Born in Seoul, South Korea, Kim has always had a deep appreciation of Japanese food. Tokyo was the first destination of his culinary journey, where he had an opportunity to learn traditional Kaiseki cuisine. Following many years of rigorous training in Kaiseki cuisine, Kim is adamant that unrelenting attention to detail is fundamental when preparing Japanese cuisine.
Kim then moved from Japan to London, the Middle East, and finally to China in late 2020. He is excited to launch his new menu at Kumoi, featuring a strong Kaiseki influence combined with elements and techniques from diverse cultures.
Pumpkin chawanmushi is a classic appetizer with a modern twist. The mini pumpkin assumes the role of a tea cup. Its ample golden shade is just right for autumn, a season of harvest. The pumpkin's natural sweet taste compliments the savory egg custard elevated by a lobster consommé. The chef dresses up this dish with a touch of spicy seafood paste, which gives this gentle entrée a distinctive Cantonese character.
King bull wagyu beef hoba-yaki, another signature dish, is inspired by the rustic and natural cooking methods practiced in the mountains of central Japan. The locals use a dried "hoba," a kind of dried leaf, as a vessel for cooking meat in white miso. A medium marbled beef of domestic wagyu is selected for the grill and accompanied by a fruity pomelo miso dip to neutralize its rich flavor.
Salmon carpaccio, black truffle and ponzu sauce; and truffle foie gras roll, barbecued eel, chives, sweet soy and truffle salsa, are two dishes with the chef's unmistakable fusion style. The ponzu dressing served with the salmon carpacciois made with Japanese citrus vinegar and bears a strong resemblance to ceviche, a household favorite in South America. The tantalizing combination of the salmon carpaccio and the ponzu dressing, accented with the truffles, is memorable. For the truffle foie gras roll the chef deep-fries the sushi roll with a tempura batter, to offer an extra layer of texture. The sweet soy and truffle salsa create a dynamic flavor combination.
(Tang Li)