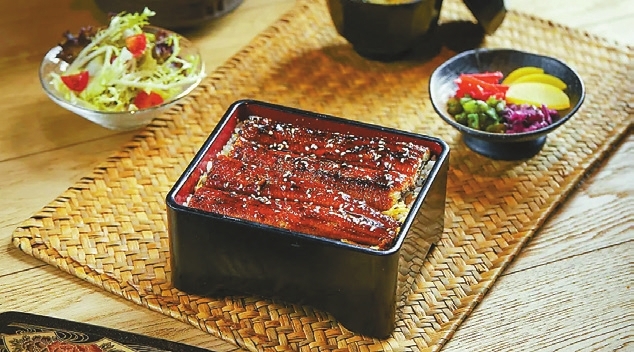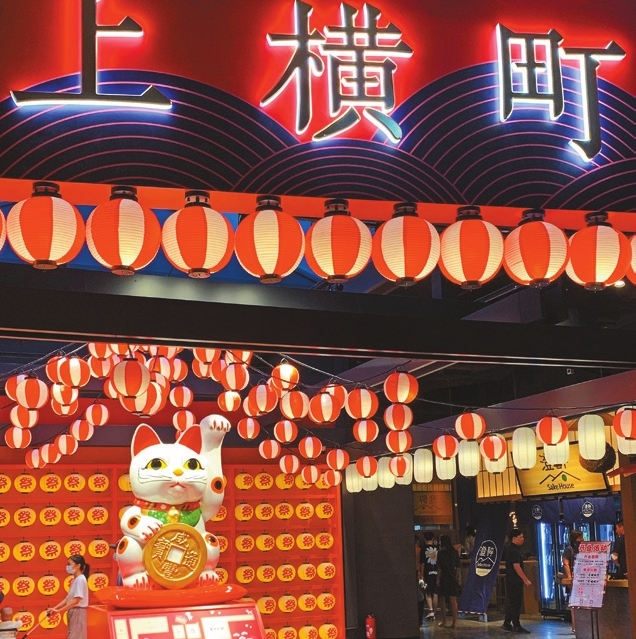 THE Japanese cuisine block "Yokocho" in UpperHills in Futian District has resumed operation after more than a year's closure. It was temporarily shut down due to the COVID-19 pandemic.
The block gathers several authentic Japanese cuisine brands, and most of them are starting businesses outside of Japan for the first time. With exquisite refurbishment during the closure period, a large Maneki-Neko (Japanese lucky cat) greets visitors at the entrance.
Among these brands, Ginza Bird Land is a must-try. The original yakitori restaurant in Japan has remained a one-starred Michelin restaurant for 10 continuous years. The one in UpperHills is the first branch that it opened in China.
The feature of yakitori is grilling the different parts of the chicken separately with fine grilling fire control to keep intact the original flavor of the chicken.
"Kita no Robata" offers people a Hokkaido style of robatayaki. Robatayaki features seafood products, and unlike other grilled-cuisine, the freshness of the ingredient is very important; that's why a fresh seafood tank is there. Customers can also enjoy the food with a bite of rose salt.
Renamed from its 20-year history Japanese original restaurant "Gazan," diners at Mamiana can satiate their appetite with sukiyaki and shabushabu (Japanese hot pot). Regarding their hot pot, it offers seafood and beef flavors. Sukiyaki is a cuisine with a long history and compared to sukiyaki, shabushabu tastes lighter.
Momiji is a popular dining site in Japan specializing in teppanyaki. Customers can sit in front of the chef and observe the cooking procedure while enjoying the iron plate-grilled food such as beef, chicken, shrimp and scallops.
Kashimin provides visitors a classic taste of Oden, or Kanto Cooking. One of the main characteristics of Oden is "slow simmering." Kashimin inherits the traditional cooking techniques, as the chicken broth is carefully simmered for eight hours, and fresh ingredients are added into the pot at different times.
Unagi lovers should not miss Ginza Mametora. Its signature grilled unagi is firstly grilled, then steamed, and finally grilled again with sauce, which is the traditional Kanto cooking method. Through this process, the unagi will be softer and more delicate, and the grease and fishy taste will be removed to a great extent.
In addition, visitors can have a drink at Aoyuzu Tora izakaya (Japanese bar) and Masumi sake house, or have tonkatsu (fried pork with rice), noodles and Japanese light meals in the block.
Located on the third floor of UpperHills, the block opens every day from 11:30 a.m. to 2 p.m., and from 5:30 p.m. to 9:30 p.m.(Lin Songtao)