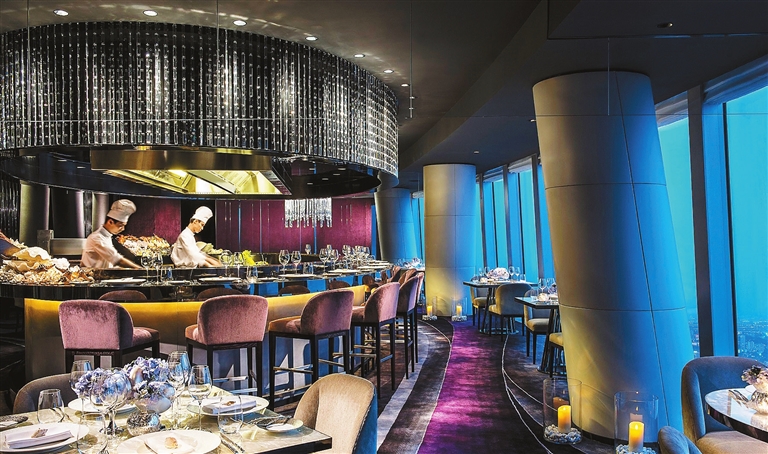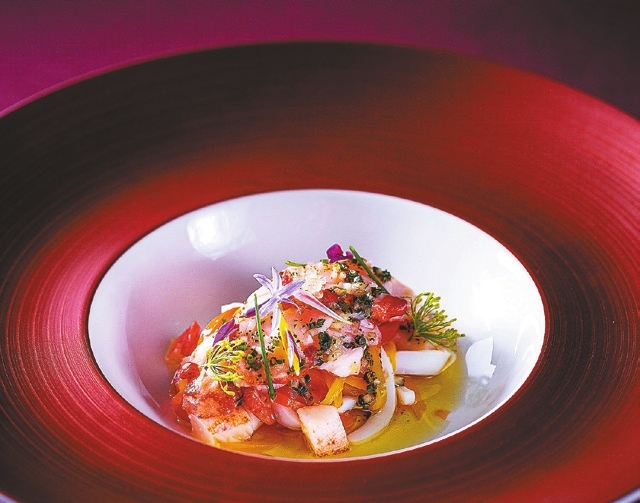 REDISCOVER a gastronomic and mixology experience, surrounded by contemporary fine art. Now through Dec. 31, Four Seasons Hotel Guangzhou is hosting an art exhibition at its Catch and Tian Bar, in conjunction with Kui Yuan Gallery, to create an exceptional experience that transcends craftsmanship.
Located on the 100th floor of the hotel, Catch currently features a selection of paintings from Yang Shun, a Guangzhou native who resides in Barcelona, Spain. A graduate of the Guangzhou Academy of Fine Arts, Yang was awarded the Annual Young Artist honor from the CAIXA D'ART Foundation in 2009. An abstract painter, she allows colors and lines to wander alongside her brush, landing wherever her heart dwells. In the selected series at Catch, she uses various shades of blue to portray the sky and the ocean in different time frames, the power and dynamics of light and shadow come to the forefront capturing the calming blue tones.
The freedom and confidence in Yang's work resonates just right with Catch, a French seafood restaurant with a soothing and romantic ambience, boasting stunning panoramic views of the city below.
Tian Bar, on the 99th floor, has selected the collection of "Flowers for Fragility" by Yu Ruojie, a rising visual artist based in Shanghai. The collection is an extension of her visual arts project, "Photos Without Photoshop." The project explores the conscious perception of existence and identity in infinite light and shadows through the intriguing relationship between ambiguity and transparency, in static photography.
The collection of "Flowers for Fragility" captures the inner strength of flowers through the fluid color and shapes within the progressive journey of a life form. Likewise, the cocktail selection at Tian Bar deliberately de-emphasizes the specific form of the flower, utilizing technology to extract its flavor and color, to enable the essence of the flower to evolve gracefully within the cocktail, ensuring that each sip is a lush fragrance. The "Flowers for Fragility" photography series not only captures the beauty of flowers but also reflects on the artful production of each flower-themed cocktail.(Tang Li)