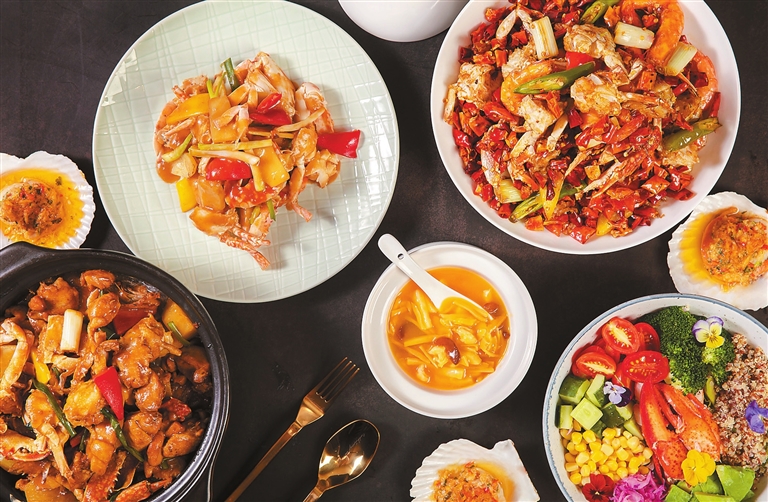 THIS Saturday and Sunday, the Xili Kitchen at Sheraton Shenzhen Nanshan will be offering its "Trick or Treat" Halloween buffet dinner. Combining Chinese and Western elements and using various preparation methods, the hotel's pastry chef has skillfully curated a variety of festive sweets to create a "horrifying" evening.
What's more, in this season when crabs are at their best, the all-day dining restaurant is also presenting more than 20 crab dishes of Chinese, Western and Southeast Asian styles to satisfy gourmets.
The restaurant also has a special makeup artist available in the two evenings to draw guests' holiday makeups, adding more fun to the fantasy night.
Highlights of the Halloween desserts include the fearsome Witch Finger Cookies, nifty Spider Puff, Bloody Brain Black Cherry Vanilla Mousse Cake, Creepy Eyeball Oreo Salty Cream Cake, and Grimace Cupcakes. It will be exciting to have a "ghost blood" drink and ignite your inner fire for the special evening.
The ingenious crab creations include a delicate low-calorie crab tarta with avocado quinoa salad, glamorous Thai-style curry crab drizzled with citronella, French-style soufflé fused with a delicate texture of crab roe, as well as pan-fried scallops and crab. Other delectable offerings include exquisite rib-eye beef, served with fresh seasonal vegetables and a creamy home-made black pepper sauce.
To complement your meal, a selection of free-flow red wines and white wines are available, as well as specially selected juices and fine coffee and tea.(Tang Li)