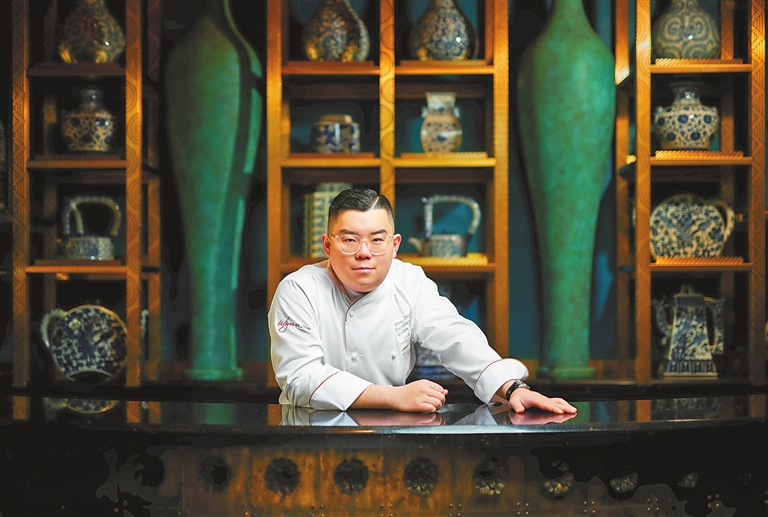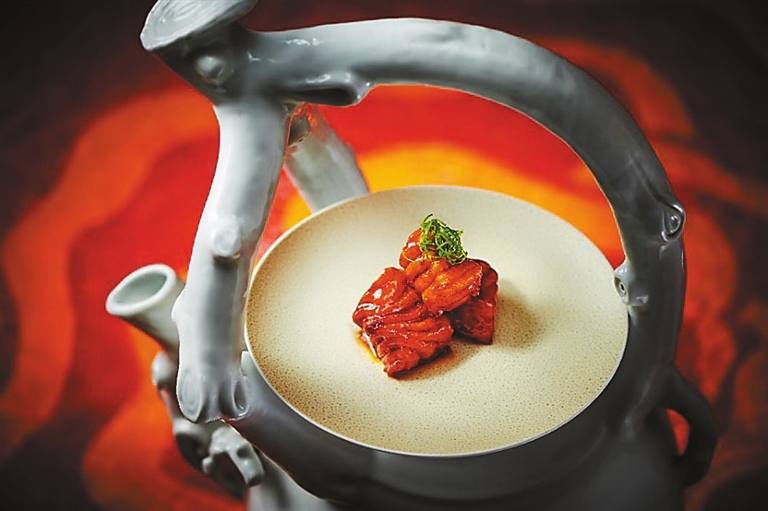 MICHELIN two-starred Golden Flower at Wynn Macao is pleased to welcome executive chef Zhang Zhicheng — one of the hottest up-and-coming young chefs in the culinary world who is well-versed in the timeless flavors of classic and contemporary Sichuan, Shandong and northern Chinese cuisines. Steeped in history and rich in cultural heritage, each of these extraordinary cuisines beautifully complements the refined and elegant ambience of Golden Flower.
Born in 1993, Zhang grew up in Beijing and became mesmerized by traditional Chinese gastronomy culture when he was a little boy. He started learning cooking at a very young age and earned a reputation as a chef when he was only 19.
Before arriving at Golden Flower, Zhang opened a private kitchen within the courtyard residence of an ancient hutong in Beijing, where he introduced bold and innovative dishes. The private kitchen quickly rose to one of the hottest dining destinations in Beijing and garnered prestigious awards.
With Zhang at the helm, ingenuity is at the heart of every dish at Golden Flower. Behind the love that he pours into the preparation of each dish is passion and persistence. Highly experienced in both ancient and modern cooking techniques, Zhang is introducing a degustation menu where regional delicacies take center stage.
Through the culinary journey at Golden Flower, guests will discover Zhang's classic dishes. The braised fish maw with superior chicken broth is an endeavor that best represents Zhang's style. Superior chicken broth that has been boiled for more than 10 hours is the soul of the creation. The secret behind the texture of the soup is that it is boiled with a variety of ingredients before being used to simmer the South African fish maw. The fragrance of the superior broth combined with the soft and glutinous fish maw, delivers an intense taste.
For the sliced sea conch with Sichuan pepper oil, 1 kilogram of precious Chaozhou conch is selected, while only the softest 150 grams are used. After being masterfully sliced, lightly boiled and mixed with homemade Sichuan pepper oil, it imparts a fresh, pure, soft and delicious sensation on the palate, presenting in an elegant manner the aroma of Sichuan pepper and the texture of sliced lustrous conch.
Inspired by the Shanghai-style smoked fish, Zhang created the crisp codfish with balsamic vinegar. He chooses high-quality Canadian codfish, removes its bones and fries the pieces of fish fillet at a temperature of 200 degrees Celsius until its surface reaches a level of dryness while locking in moisture. Like a golden brick with a white, jade-like center, it epitomizes the perfect combination of crispy exterior and a delicately tender inner core.
Golden Flower also features the art of tea and the wine pairing service as parts of its dining experience.(Tang Li)