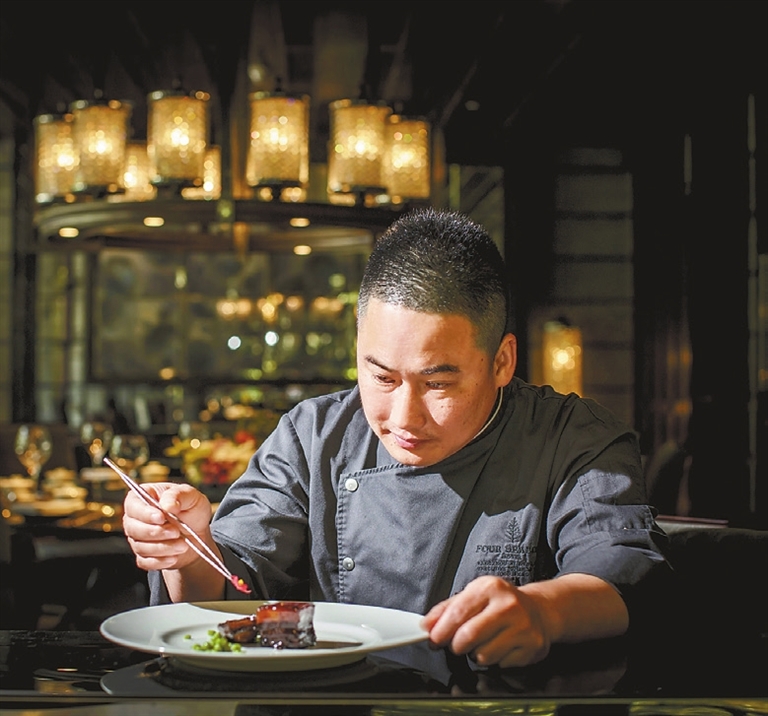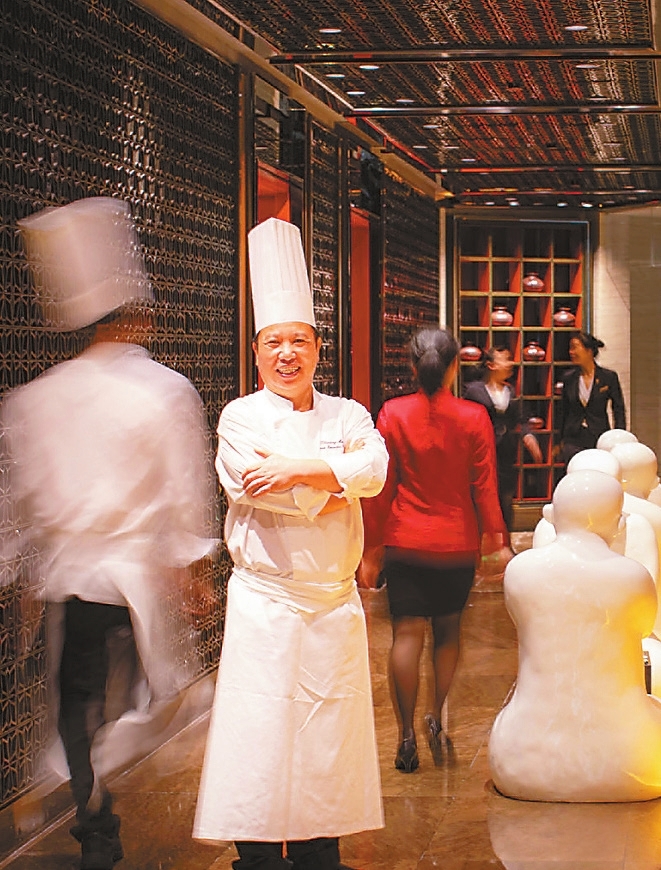 YU YUE HEEN at Four Seasons Hotel Guangzhou will present the grand finale of the four-hand gastronomic series 2021 from Nov. 25 to 27 in collaboration with the Jin Sha restaurant at Four Seasons Hotel Hangzhou at West Lake. The two award-winning chefs, Mai Zhixiong of Cantonese cuisine and Wang Yong of Jiangzhe cuisine will co-create an eight-course tasting menu that takes guests on an indelible journey to unveil the essence of Chinese culinary art.
Wang, executive Chinese chef of Four Seasons Hotel Hangzhou at West Lake, has been the mastermind of Jin Sha for the past decade. He will present three courses for this episode. For the appetizer, he pairs snow crab meat marinated in Japanese vinegar with water shield. The savory crab meat packed with refreshing vinaigrette offers the right kick to open up the appetite.
The second dish is his recent experiment with 5J Jamón. The fun part of this course is to pour the sizzling hot consommé from a teapot, allowing the soup to cook the thin slices of Jamón while releasing a rich flavor along with the rising smoke.
The third course brought by Wang is a classic: Shanghainese braised pork with abalone in a sweet soy sauce with sugar and yellow wine.
Mai, executive Chinese chef of Four Seasons Hotel Guangzhou, has more than 30 years' experience in Cantonese culinary arts and nearly 10 years' experience managing Yu Yue Heen.
He will first serve a Cantonese classic, barbecue pork belly. He selects dark skinned pork for its beautiful marble, and the process goes through meticulous steps of cleaning, poaching, marinating, air-drying, then it is ready for barbecue in high heat. Along with the equally crispy roast goose, this Cantonese classic creates a nice contrast with the tenderness of the braised pork belly. The two work to showcase the unique character of the equally reputable cuisines. He will also present two other dishes: steamed Boston lobster with Inaniwa udon, and poached pea leaves in fish broth.
With the four-hand menu, both chefs introduce their ingenious production in a simple presentation. The menu has a solid structure that conveys diversity in texture and a smooth flow in flavor. As the grand finale of the four-hand gastronomic series 2021, the two chefs will raise expectation of the 2022 series.(SD News)