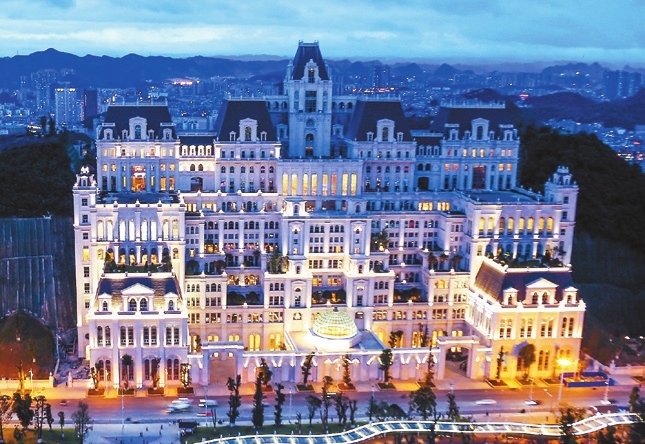 ACCOR is delighted to introduce its newest luxury brand, Emblems Collection, with its first signing — a magnificent flagship hotel, Guiyang Art Center Hotel, Emblems Collection, in Guizhou Province. The new brand is a unique global portfolio of boutique hotels and luxurious resorts and the inaugural hotel is slated to open in December 2022.
The Guiyang Art Center Hotel, Emblems Collection resides within the city's famous Guiyang Art Center. Originally built as an opulent private residence, this crown jewel of the Guizhou Province capital attracts visitors with its lush landscaping, sprawling grounds, and serene wellness ambience.
With 64 extraordinary suites and two magnificent ballrooms, guests will love the new Emblems Collection hotel, with its exciting mix of atmosphere, grandeur, style and innovation. Whether enjoying the serenity of the swimming pool, spa and fitness area, or the social buzz of one of the sophisticated hotel's stylish bars, lounges and restaurants, the Guiyang Art Center Hotel, Emblems Collection is certain to become one of the most popular hotels in Guiyang.
With a free-spirited approach, Accor's newest luxury brand Emblems Collection will feature unique hotels that are "emblematic" of their designers, demographics and destinations. Appealing to the stylish and the smart set, signature elements of the branded hotels will include luxurious surroundings, Instagram-worthy pools, and vibrant public spaces.
"The Emblems Collection adds a fresh and exciting new dimension to Accor's luxury offerings. A key focus of our growth and development strategy is to add aggressively across our strongest lines and leading business accelerators, which includes luxury as well as collection brands, while ensuring all 40+ brands in our global network continue to grow, evolve and flourish," said Sébastien Bazin, chairman and CEO of Accor.
"The hotels we will feature in the Emblems Collection are those sought out by travelers who appreciate high-end, boutique-style experiences, as well as by hoteliers who cherish the independent brands they've built while desiring the benefits that come with a global partner."
The Emblems Collection brand will especially appeal to hotel owners seeking to upgrade their property's luxury status and give their global profile a boost. With a plan to grow the collection to 60 properties by 2030, Accor is actively seeking new properties to be a part of the Emblems Collection in targeted destinations around the globe.
(SD News)