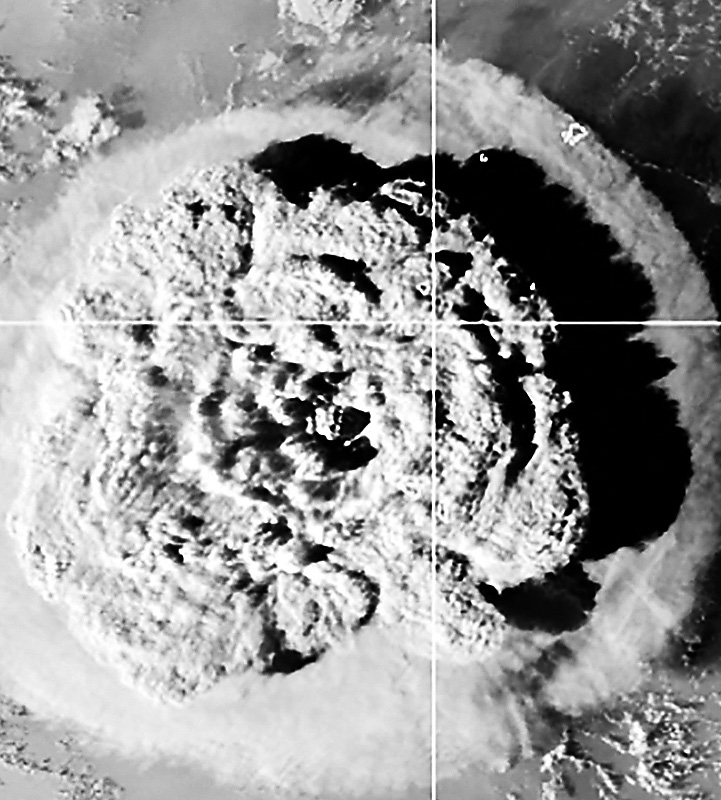 TSUNAMI reached Japan late Saturday through early Sunday, and waves as high as three meters were possible, the Japan Meteorological Agency said, hours after a massive volcanic eruption near Tonga.
The agency said a 1.2 meter tsunami reached the remote southern island of Amami Oshima around 11:55 p.m. Saturday before other areas along Japan's Pacific coast observed smaller tsunami.
The eastern shores of northernmost Hokkaido island as well as southwestern regions of Kochi and Wakayama also saw tsunami as high as 0.9 meters shortly after midnight, the agency said.
National broadcaster NHK switched to special programming and aired live footage from ports of affected regions, calling on area residents to evacuate to higher ground. The footage showed no clear signs of abnormality, however.
A weather agency official told a televised, midnight news conference that the agency had detected a tidal change higher than one meter after 11 p.m.
The agency didn't immediately classify it as tsunami. However, it decided to activate the public tsunami warning systems to urge the evacuation of Amami residents.
"We don't know at this point whether this is tsunami, but a strong tidal change has been observed, so we're urging residents to respond," the official told the press conference.
The massive underwater volcanic eruption in Tonga was so powerful it was recorded around the world and triggered a tsunami that flooded Pacific coastlines from Japan to the U.S.
In New Zealand, more than 2,300 kilometers from Tonga, 120 people were evacuated from northern coastal areas and several boats destroyed when a huge wave crashed into a marina. Prime Minister Jacinda Ardern told reporters at a media conference yesterday that the New Zealand Government has made an initial sum of 500,000 New Zealand dollars (US$340,000) available to provide assistance to Tonga.
Australia's popular Bondi Beach in Sydney was briefly evacuated as a precaution.
The Ecuadorian Navy Oceanographic Institute (INOCAR) on Saturday issued a "tsunami warning" to Puerto Ayora, the largest town in central Galapagos Islands, some 1,000 km west from continental Ecuador, due to the eruption of an undersea volcano in Tonga in the South Pacific.
California, Oregon, and Washington states of the U.S., as well as parts of Hawaii, south Alaska and the Aleutian islands were all expected to also be affected by the huge eruption, following the undersea volcano. As of Saturday noon local time, there was no report of damage to the California coast.
Pacific nations and humanitarian groups struggled to establish communications with Tonga on Sunday after a tsunami triggered by a massive volcanic eruption cut telephone and internet connections, raising concerns for the tiny island nation.
Internet and phone lines went down at about 6:40 p.m. local time Saturday, leaving the 105,000 residents on the islands virtually uncontactable.
Satellite images captured the volcanic eruption Saturday as the explosion sent plumes of smoke into the air. The sky over Tonga was darkened by the ash.
(SD-Xinhua)