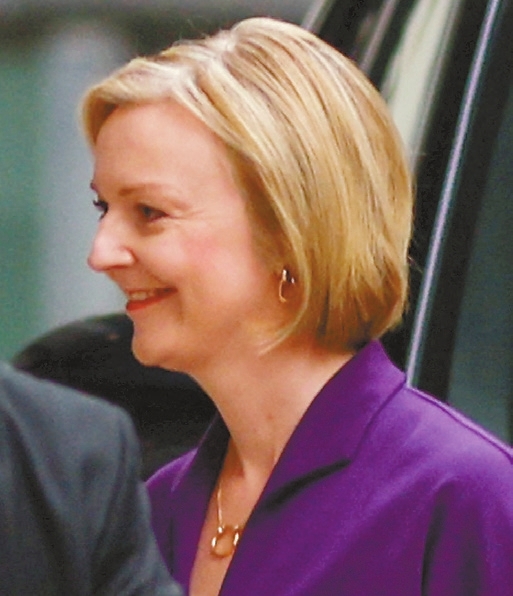 LIZ TRUSS, foreign secretary of the United Kingdom (U.K.), has won the ruling Conservative Party's leadership contest and will replace Boris Johnson as the country's new prime minister.
In the runoff, Truss beat her rival, former Chancellor of the Exchequer Rishi Sunak by winning approximately 57.4% of the Conservative Party members' vote, Graham Brady, chair of the party's backbench 1922 Committee, announced yesterday.
Voting by the 200,000-odd Conservative Party members began in early August, a month after Johnson was forced to step down following an avalanche of ministerial resignations over his scandal-plagued leadership.
The formal handover will take place today after Truss and Johnson meet Queen Elizabeth II, who is staying at her Balmoral estate in Scotland. Both are expected to deliver a speech outside 10 Downing Street.
Truss, 47, is to become the UK's third female prime minister after Margaret Thatcher and Theresa May. She faces the immediate tasks of tackling the worsening cost-of-living crisis and handling a Brexit arrangement about Northern Ireland to avoid antagonizing the European Union.
After a drawn-out Conservative Party leadership contest — and something of a political power vacuum in the U.K. following the resignation of Johnson — the country now has a new leader.
With a cost-of-living crisis brewing in the U.K., as elsewhere in Europe as inflation continues to rise, Truss will have to hit the ground running to deal with the immediate squeeze on Britons' pockets, with energy bills forecast to soar in the fall.
Political commentators and economists have been poring over Truss' political history as well as her economic pledges on the campaign trail for a better idea on where she might take a country that, as well as facing a potential imminent fall in living standards, is yet to find a grip on the economic cost of the COVID-19 pandemic or the fallout from leaving the EU.
While she's been elected the new leader of the ruling right-leaning Conservatives, Truss cannot be said to have been born and bred into the Conservative Party tribe.
Truss was born into what she has described as a left-wing household, her father a mathematics professor and her mother a nurse.
She recalls her mother taking her on nuclear disarmament marches, run by the Campaign for Nuclear Disarmament (CND), in the early 1980s where they would sing anti-Margaret Thatcher songs.
In another radical departure from her present political incarnation, Truss was an active member of the center-left Liberal Democrats party as a young adult, once advocating the abolition of the monarchy while speaking at a party conference.
However, it was while studying for a degree in philosophy, politics and economics (a common course for British politicians to take at university) at Oxford that she decamped to the Conservative Party.
Truss married accountant Hugh O'Leary in the year 2000 and in the ensuing decade, she threw herself into politics, attempting (and failing twice) to be elected as a Conservative Member of Parliament.
In 2010, however, she finally succeeded in becoming the MP for South West Norfolk, which remains her constituency now — although faced another hurdle to reach that position when local party activists tried to have her deselected as a candidate as she had not declared an affair in 2006 with a married MP, Mark Field.
Her marriage survived the revelations and she and her husband have two teenage daughters.
It was in then-Prime Minister David Cameron's government a decade ago that Truss really rose to political prominence, serving as as parliamentary under-secretary of state for childcare and education in 2012 and then environment secretary two years later.
In that role, Truss was widely lampooned for a speech she gave at the Conservative Party conference in 2015 in which she made what was seen as an exaggerated plea for British cheese, telling the conference in earnest: "We import two-thirds of our cheese. That. Is. A. Disgrace."
(SD-Xinhua)