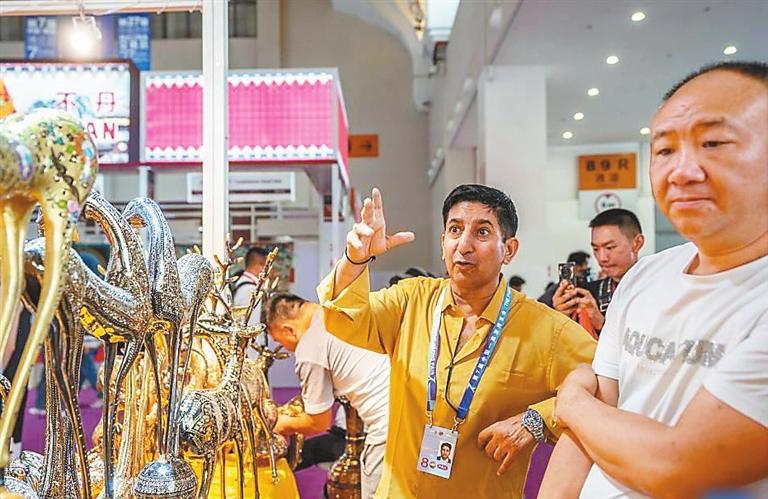 THE 7th China-South Asia Expo officially kicked off in Kunming, the provincial capital of Southwest China's Yunnan Province, on Wednesday, fully resuming its offline exhibition for the first time since the start of the COVID-19 pandemic and offering a crucial platform for boosting economic and trade cooperation between China and South Asian countries.
The expo, the only national-level comprehensive exposition for multilateral diplomacy, economic and trade cooperation, and cultural exchanges between China and South Asian countries, has boosted trade between China and South Asian countries over the past decade, greatly benefiting relevant countries amid a difficult time of global economic hardship, Chinese officials and analysts said.
Wang Yi, director of the Office of the Central Commission for Foreign Affairs, attended and addressed the opening ceremony of the expo.
Wang, also a member of the Political Bureau of the Communist Party of China Central Committee, said that this year marks the 10th anniversary of the expo and also the 10th anniversary of the Belt and Road Initiative and the neighborhood diplomacy featuring amity, sincerity, mutual benefit and inclusiveness.
"Over the past decade, we have consolidated solidarity and cooperation to safeguard regional security and the development environment. We have continued to build the Belt and Road and made gratifying progress in connectivity, infrastructure, trade and investment. We have carried out in-depth friendly exchanges, adhered to the principle of openness and inclusiveness, and built a multi-level platform for people-to-people exchanges," Wang said.
He stressed that China stands ready to work with South Asian countries to strengthen solidarity and coordination, foster new development drivers, build a community of development, and contribute to enduring peace, stability and prosperity in the region.
Wang made suggestions on cooperation in four areas: deepening strategic mutual trust, deepening connectivity, deepening economic and trade cooperation, and deepening people-to-people exchanges.
Sri Lankan Prime Minister Dinesh Gunawardena, Lao Vice President Pany Yathotou, Nepalese Vice President Ram Sahay Prasad Yadav, and Vietnam's Deputy Prime Minister Tran Luu Quang attended the opening ceremony.
All parties thanked China for creating an efficient cooperation platform to help South Asian countries catch a ride on China's fast train of development, and expected to strengthen solidarity and cooperation with China and contribute to regional openness, inclusiveness, peace, stability and mutual development. (SD-Xinhua)