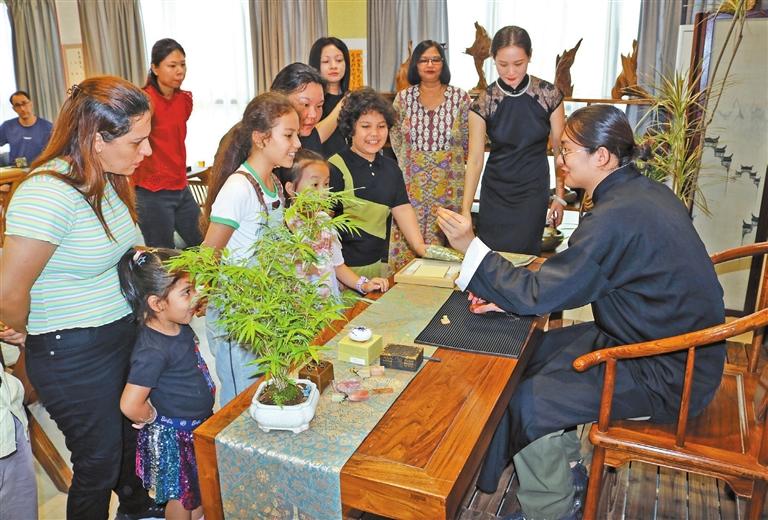 Liu Minxia
mllmx@msn.com
OVER a dozen expats tried seal carving during a free Chinese culture class offered by Minzhi International Block in Shenzhen's Longhua District on Saturday, creating their own seals for the first time.
The event is the August session of a monthly project that was initiated in September 2021 by Minzhi's Hongshan International Service Center, which aims to build an international neighborhood and create a multicultural atmosphere in a city-designated international block where more than 1,400 expats reside.
The free classes, with a wide range of Chinese culture themes such as paper cutting, kite making and Chinese painting and calligraphy, are designed to enhance the understanding of Chinese culture as well as promote cultural exchanges between China and overseas countries.
This month's theme, seal carving, required participants to engrave characters or symbols on a stone seal by using a burin. Rao Yifan, presenter of the class, started by sharing with expat learners the history of Chinese seal carving. He explained and demonstrated the process of creating a seal, including how to design the structure of the script on the stone and the skill of using a burin.
Participants showed great interest in the art of seal carving, which is the combination of calligraphy and engraving, saying they enjoyed the process of making their first Chinese seal.
"The combination of Chinese seal cutting art with its unique form and long history has brought me surprises and charm," said Riyad Ahamad from Bangladesh. "The thought that I also have my own Chinese cultural seal makes me so happy."
Asma Noor from Pakistan said the event is very interesting and she is enchanted by the richness of Chinese culture. "By making it [the seal] myself, I gained a deeper understanding of Chinese seal cutting culture," she said.
Minzhi International Block, one of the two designated international blocks in Longhua when Shenzhen unveiled its first batch of 20 international blocks in 2019, has hosted more than 30 public events that offered expats the opportunity to immerse into the local culture and life.