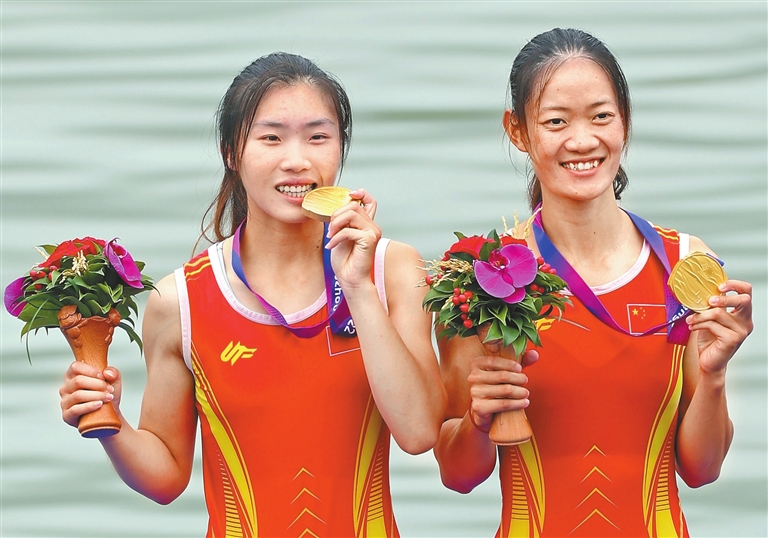 CHINESE rowers grabbed the Hangzhou Asian Games opening gold in Women's Light-weight Double Sculls in Hangzhou yesterday morning.
This is the sixth time in a row China grabbed the opening gold at the Asian Games.
Zou Jiaqi and Qiu Xiuping, who finished sixth at the 2023 World Championships just weeks ago, won with a comfortable lead in seven minute 6.78 seconds at the Fuyang Water Sports Center in the capital of East China's Zhejiang Province.
They were followed by Uzbekistan rowers Luizakhon Islomova and Malika Tagmatova with a result of 7:16.49, and Chelsea Corputty and Mutiara Rahma Putri from Indonesia in 7:17.64 in Fuchun River.
With China's hope for the Hangzhou Asiad opening gold on their shoulders, the girls had handled the pressure well.
Progressing into the final as the first place in the preliminaries, the duo took the lead soon after beginning of the final. Accompanied by a wave of cheers, Zou and Qiu sailed past the finish line first, leaving their competitors way behind.
Luizakhon Islomova told the press that the competition was "very fierce," and they have already done their best to win the medal.
After bagging the first gold, Zou Jiaqi and Qiu Xiuping are eyeing the 2024 Olympic Games.
"The ultimate goal is to step onto the highest podium in Paris," Qiu told Xinhua after the victory.
Despite being an established rower with titles from China's National Games and the Asian Championships, Qiu could not keep her cool and almost burst into tears after the victory.
"I saw my parents before the game and this is the first time they come to see me compete in my 10 plus years rowing career. Their support touched me deeply," Qiu said.
After the competition, Zou, 21, extended her gratitude to her family and the staff.
A native of Zhejiang, she said: "I grew up drinking the water from Fuchun River here. It makes me so excited to win the game here. The victory gives both of us much more confidence, and we hope to stand on the top podium in Paris next year as well."
Zou was satisfied with their performance, adding that they had prepared themselves for the potentially complicated situation in the changing wind.(Xinhua)