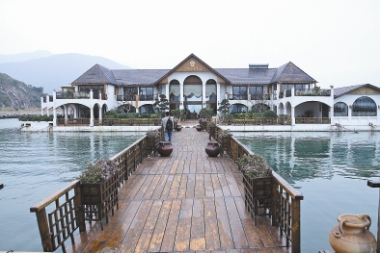 THE billion-yuan so-called Sea Palace, a deluxe villa floating on the sea in Longgang District, Shenzhen, has been licensed for business.
    The European-style villa in Dongshan Bay was dismantled into three sections in May last year following a court order after the provincial marine supervision authority concluded it was an illegal building. According to the Longgang marine supervision authority, it had been approved for fishing and aquatic farming.
    "The reason is because the provincial marine authority is piloting tourism and has agreed to renovate the villa for leisure," a Longgang marine official was quoted as saying by Shenzhen Evening News. 
    "It can't be used for private gatherings, it must be open to the public," according to the official.
    The Sea Palace can be reached in five minutes by renting a boat for 150 yuan (US$23) from Dongshan Village.
    The main body of the villa has been well-preserved and the two smaller sections were about 500 meters from the main building, according to yesterday's Southern Metropolis Daily.
    Staff at the villa, who were preparing dinner, refused to answer questions, but said the villa was open to visitors.
    But a man who was waiting for a boat said the villa accepted only acquaintances and friends of the owner. It cost about US$500 for a night and a dinner at the villa, which is owned by Guo Kuizhang, a real estate developer. Guo started building the villa on fish rafts in 2003. It was expanded to cover an area of more than 3,000 sqm in mid-2004 and soon earned a reputation as a "palace on the sea."
    Li Zhongliang, lawyer with Guangdong Shenglong Law Firm, said authorities needed to explain to the public how this illegal building had suddenly been legalized.
    (Han Ximin)