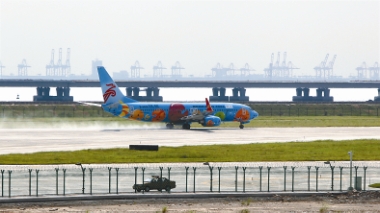 Han Ximin
    A SHENZHEN Airlines flight took off at 4:15 p.m. to Chengdu, capital of Sichuan Province, yesterday, marking the official opening of the second runway at Shenzhen International Airport.
    Shenzhen then became the seventh city in China with two runways, after Beijing, Shanghai, Guangzhou, Chengdu, Chongqing and Kunming.
    At the launch yesterday, Wang Rong, city's Party chief, said the second runway and Terminal 3, which would open next year, would play a significant role in Shenzhen's efforts to build itself into an international air hub.
    The runway is expected to increase airport capacity by 10 percent, with 40 flights an hour compared with the previous 34 flights an hour.
    Passenger turnover is expected to reach 30 million next year after Terminal 3 opens.
    Occupying 451,000 square meters, the terminal will be the fourth-largest airport terminal in China.
    Yang Haibin, vice president of Shenzhen Airport Group, said the two runways would improve flight punctuality.
    The land for the 3.8-kilometer-long 60-meter-wide runway was reclaimed from the sea. The runway was designed to accommodate the largest commercial aircraft A380.
    Shenzhen now has more than 600 scheduled flights a day and the existing runway has long been running at maximum capacity.
    The airport recorded passenger traffic of 14 million in the past six months. The annual volume is expected to reach 27.5 million by December.