3D动画片《蓝精灵》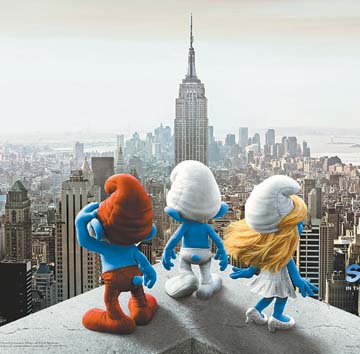 Directed by Raja Gosnell, the film is based on characters that began life in the 1950s in a comic book by Belgian artist Peyo Culliford. The little blue gnomes* have appeared in lots of different media, including a Saturday morning TV run that turned them into a mini-phenom*.
The film's merits and shortfalls are not a surprise, as Gosnell has been carving a niche* in the world of family comedies for a while now. Many of them involve digitally enhanced animal antics* and none of them have been very creative — "Scooby-Doo," "Scooby-Doo 2" and "Beverly Hills Chihuahua," for example — and he stays the course.
It all begins in Smurf-land, a perfect sunny world of singing and dancing and no discord*, except for the few lumps that come from being too close to Clumsy (voiced by Anton Yelchin). Oh, and there is that evil wizard* Gargamel (Hank Azaria) on the other side of a kind-of invisible wall, who's obsessed* with getting some Smurf essence*.
Things might just rock along with the Smurfs singing on one side of that wall and Gargamel fuming* on the other, but there's a blue moon rising. It's mainly just a plot device to help get the Smurfs from there to here, as in New York City, with Gargamel and his strange special-effects cat with attitude*, in hot pursuit.
In the city, the Smurfs are soon tangled up with Patrick (Harris) and Grace (Jayma Mays) — a young couple about to be parents. He's got career issues and an ad campaign to come up with, she's just doe-eyed lovely but a little worried about him. Soon enough their conflicts* center around how to help the Smurfs make it back home and what lessons they can learn from Papa Smurf (Jonathan Winters).
There are many good actors wasted as voices — Alan Cumming, Fred Armisen and Winters among them — and in the flesh. Sadly, there are no red shoes here and the wizard is a long way from Oz. Instead, there are long, long flat-footed chase* scenes. The interaction* between animation and the folks in the real world, well, it's clumsier* than Clumsy.
gnome 矮人精灵
phenom 风云人物
carve a niche 占一席之地
antics 滑稽行为
discord 不和
wizard 巫师
obsess 让......着迷
essence 精粹
fume 生气
attitude 坏脾气
conflict 冲突
chase 追赶
interaction 互动
clumsy 笨拙