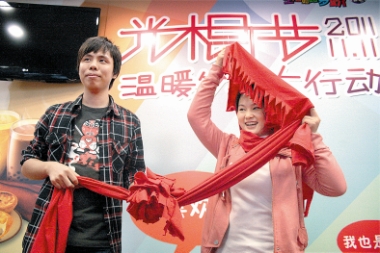 Wang Yuanyuan
    MORE than 20,000 netizens witnessed a man proposing to a woman at the Kingkey 100 in Luohu District under giant LED lights Wednesday night, two days before the annual "Bachelor's Day."
    The lights said "Zheng Shanshan, I Love you! Will you marry me?" to the background music of the classic "Can't take my eyes off you," said a netizen named MaoMiao.
    The couple involved refused to be interviewed. The five-minute proposal was said to have cost more than 400,000 yuan (US$63,000), but Kingkey 100 said there was no such service. "It might have been a gift from friends who had a relationship with the building management," a Kingkey spokesman said.
    Meanwhile, many couples had applied to marry on Bachelor's Day on Friday, and city marriage registry offices would work overtime to meet the demand.
    Registry offices in Luohu, Futian, Nanshan and Yantian districts would open at 8 a.m. Friday, an hour earlier, and would close only when all registrations had been completed, the civil affairs bureau said Thursday.
    Many department stores launched weekend promotions for men, while some bars would hold parties for singles to celebrate Friday night.