DURING the past Spring Festival holidays, China's hottest social topic was the escalating fight between two celebrities — best-selling author Han Han and anti-fraud crusader Fang Zhouzi.
    Fang, a scientist known for pointing out frauds in Chinese academic circles, recently accused Han of hiring ghostwriters for most of his works.
    On his blogs, Fang also claimed that the author of "The Triple Gates" — Han's first published book, by which he gained national prominence — might have been someone else. Fang implied that the ghostwriter could have been Han's father.
    In response, Han Han said he's preparing to sue Fang. Lu Jinbo, Han's agent and well-known publisher, revealed on his microblog that Han would seek 100,000 yuan in compensation.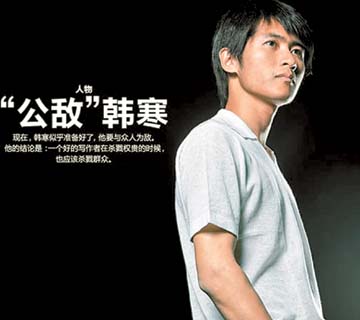 The quarrel was started by IT commentator Mai Tian in early January. Mai published an article on his blog claiming the image of Han Han as a public intellectual was created by his father, Han Renjun, and Lu.
    Mai claimed Han Han, a professional rally driver, wrote many of his books and blogs during periods when he was taking part in driving events.
    Han, one of China's most popular bloggers, responded in an online article by saying he would pay 20 million yuan (US$3 million) to anyone who had evidence showing he had hired other writers to finish his work.
    Mai also mentioned that Han once forgot the meaning of "The Triple Gates" title in an interview, while his father explained it well and remembered it clearly 10 years after it had been written.
    On Jan. 18, Fang, a past leader of campaigns against pseudoscience and various frauds in China, backed up Mai's suspicions.
    Fang said when he wanted to read an April 2007 article published on Han's blog, he found that all the articles Han had written from December 2006 to September 2007 had been deleted. He suspected that Han had been trying to delete evidence of ghostwriters. Fang said Han and his father were from two different generations and yet had similar styles, which was impossible unless the father wrote in Han Han's name.
    Lu said Han had collected more than 1,000 pages of his novels' original manuscripts and would hand them to authorities for verification to prove he wrote the novels on his own.
    In his blog, Han complained: "A writer's hardships in the past dozen years might just be ruined by a rumor and the performances of several men."
    Han did not finish high school because of a dislike for the educational system, but rose to fame in a high school writing competition in Shanghai in 1999. His rebellious streak and satirical writing style have proved popular with young people.
    One of China's top-earning authors, he is widely seen as a torchbearer for the generation born after the beginning of the country's opening to the outside world, a group the Chinese call the "post-'80s generation." He was nominated as one of the 100 most influential people in the world by Time magazine in 2010.
    Han has published 14 books and anthologies, generally staying away from sensitive issues such as democracy and human rights. But in the first days of 2012 he has published three blog posts addressing revolution, democracy and freedom. The posts said China was not ready for democracy and drew much criticism from intellectuals while causing widespread debate in China.
    The entire incident has become even more dramatic as many celebrities have quickly taken sides. Film star Fan Bingbing backed Han, offering 20 million yuan to people who could find any of Han's ghostwriters. Scriptwriter Ning Caishen offered a year's compensation. Scholars including Zhang Fang, Xiao Ying, Zhao Xiao, Wang Zhi'an and Liu Ge support Fang Zhouzi.
    (Deng Hanneng)