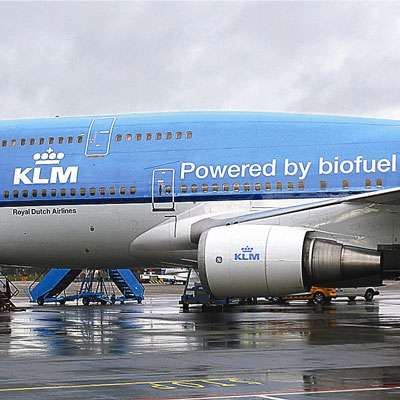 KLM Royal Dutch Airlines has announced it will purchase 2,000 tons of gutter oil from Shanghai, and refine it into aviation fuel for its aircraft.
    The Dutch national carrier, which currently uses a 50-50 mix of biofuels and fossil fuels, has said it may need as much as 120,000 tons of jet biofuels each year.
    In June 2011, KLM made the world's first bio-diesel fueled flight, taking 171 passengers from Amsterdam to Paris.
    Last month, it made headlines again by successfully flying a Boeing 777-200 from Amsterdam to Rio de Janeiro on bio-kerosene made from used cooking oil. This was the world's first long-haul biofuel flight.
    Being on the cutting edge of this technology will give KLM a huge cost advantage over competitors as used cooking oil costs about 30 percent less than petroleum in China.
    Gutter oil, made from leftovers dredged from gutters outside restaurants, has been widely viewed as a hazard to public health and therefore incurred nationwide crackdown in China.
    Last November, KLM purchased 20 tons of gutter oil from Qingdao, eastern Shandong Province. The sample was then tested to show whether it could be exploited as jet-fuel.
    After a string of formalities, such as Customs declaration, the waste oil bought from Shanghai will be processed into biological jet-kerosene by technicians of the Dutch airline. The 2,000-ton oil is schedule to start their "journey in the air" around mid July.
    From June, the Dutch airline began to supply intercontinental flights with waste oil-converted fuel.
    The Netherlands is not the only country to process waste oil into jet-fuel. As early as in 2008, some British airlines transformed animal fat into aviation fuel. (SD-Agencies)