Anne Zhang
    zhangy49@gmail.com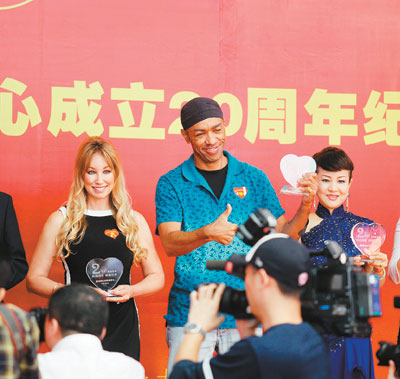 MARK OKOTH OBAMA NDESANDJO, half-brother of U.S. President Barack Obama, was recognized at the 20th anniversary of the Shenzhen Social Welfare Center on Friday, for teaching orphans at the center to play the piano over the past 10 years.
    Ndesandjo is among 21 individuals who were recognized at the anniversary for helping orphans at the center. American K. Tamra was the only other expatriate to receive the recognition.
    Ndesandjo has made his name in China with extensive charity work across the country. Ndesandjo donated many musical instruments to the local orphanage and has given piano lessons to orphans nearly every Wednesday for the past 10 years, said Tang Rongsheng, director of the Shenzhen Social Welfare Center.
    Ndesandjo came to Shenzhen 10 years ago and married a woman from Henan Province in 2008. One of Ndesandjo's students is Bao Luhua, who suffers from a cleft palate and impaired hearing. Ndesandjo taught Bao for seven years, until the now-21-year-old man started a career in a private company, Tang said.
    Ndesandjo avoided media Friday and was reluctant to talk about himself, only saying that he hoped more volunteers would come and help orphans. Ndesandjo is now running a Shenzhen-based consulting firm that helps American companies invest in China and Chinese companies invest in the United States and Kenya.
    The other expat honoree, K. Tamra, is from Florida and the mother of two daughters. She has organized a group of mothers in her Shekou community, from across the world, to help orphans at Tang's center. The group visits the center and takes care of orphans suffering from cerebral palsy every Tuesday and Friday afternoon, Tang said.
    "We picked Tamra for this honor because she is the one in her group who has volunteered at the center for the longest period of time," Tang said.
    A total of 66 organizations and companies, including Shenzhen Crowne Plaza, Shenzhen Press Group and Walmart China, were also recognized for making donations to the center, providing job opportunities to orphans and offering them training programs.