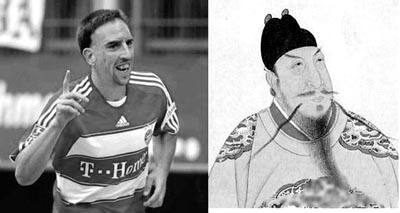 FRENCH international footballer Franck Ribery has admitted to having Chinese ancestry and it's emerged his family can be dated back to the Ming Dynasty (1368-1644).
    The People's Daily in China has reported that a cousin of the Bayern Munich wing ace has discovered they have noble family ties to Zhu Yuanzhang, first emperor of the Ming Dynasty in the 1300s.
    Ribery was raised in a low-income neighborhood. When he was 2 years old, he and his family were involved in a car accident in his hometown, colliding with a truck. He suffered serious facial injuries that resulted in more than 100 stitches and left two long scars down the right side of his face.
    Prior to joining Stade Brestois in 2003, he worked as a construction worker. (SD-Agencies)