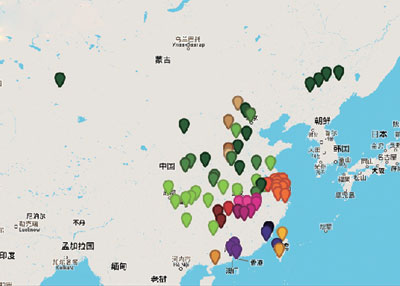 DUE to fast socio economic development, many people in China are migrating from the countryside for new lives in a city. And with the adoption of standard Mandarin as the official language, being taught nationwide in schools, many Chinese dialects are disappearing. Most children born in major cities like Shenzhen can now only communicate with their family in Mandarin, having very little knowledge of the native dialects spoken by their parents and grandparents.
    Even born-and-raised locals have problems when communicating in their local dialects. For example, in Shanghai, many members of the younger generations are unable to accurately converse in the traditional Shanghai dialect that older generations speak. This issue is not unique to Shanghai and is widespread in other dialect-speaking regions.
    How to save these "disappearing dialects" is gradually becoming an important issue in China. In 2010, two Americans decided to take action. Kellen Parker and Steve Hansen launched a website, www.phonemica.net, to record and preserve "disappearing dialects."
    Two linguistics lovers
    Parker is a postgraduate student in the linguistics department of Tsing Hua University, Taiwan and a born-and-raised American. "Since becoming an adult I've never stayed in the United States," Parker said, adding that he has "no plans to go back in the future." He previously learned Arabic in the Middle East and took an interest in their dialects.
    In 2006, the 26-year-old Parker came to China and started a postgraduate course at a Shanghai university. Besides learning Mandarin in order to live better he studied dialects in Shanghai and Changzhou. After years of practicing and learning he can now understand the Fujian dialect, and is learning the Hakka dialect. "I want to communicate with my Hakka neighbors who can't speak much Mandarin," he said.
    "I'm always interested in dialects. I believe when you live in a place, you should know your neighbors and try to understand the surrounding environment. I don't want to be a person who lives in a country but can't speak any local languages. This is a big reason for me to learn the dialects," he said.
    Like Parker, Hansen is a big fan of linguistics. Born in Washington State, he can speak fluent Chinese, Spanish, Korean and Latvian.
    Calling himself a "Beijing expert," Hansen lives in Beijing, runs a small consultation company and teaches at the Guanghua School of Management of Peking University.
    "Beijing people have very little knowledge about other dialects in China," he said. "They're like those New Yorkers who think they're the center of the world."
    Stories for the
    homesick
    After being away from home for a long time, Parker thinks it "feels nice and warm to hear the dialect of your hometown." In 2008, he had the idea of making a fun website so "Chinese people around the world could hear Chinese dialects of all kinds."
    He shared his idea with Hansen, who immediately loved the idea. In 2010, the two started working together on the website.
    "What we do is record dialects. I think recording dialects is useful and valuable. Imagine how it feels when hearing Cao Xueqin read his 'A Dream of Red Mansions' in his home dialect, or hearing Lu Xun talk in his native dialect about how his childhood had inspired his writing," Parker said.
    After five years of effort, they had made a Chinese dialect map of ordinary people telling their stories in their home dialects.
    For example, a recent recording is of a retired doctor in Beijing talking about his experience as a child being sent to work in a rural village in Gansu Province.
    "This is our special service, combining linguistics with history," Parker said.
    The map has different types of dialects from different areas of China. Users can click an area of the map to hear the voices. Most of the audio pieces are about five minutes.
    At present, the map has 151 recordings of ordinary Chinese people, with 200 volunteers across the country helping record dialects for free.
    "Most of the audio pieces we have currently are from the coastal areas. In the future, we'll have records from other parts of the country and even from Chinese people living in Singapore and Mongolia," Hansen said.
    Saving dialects
    Parker believes Phonemica has big potential for linguistics and has plans to analyze the dialects through technological methods. "In this way, it will be very helpful for those who want to learn the dialects. Eventually, it will become a database. You could use it as an 'English-Luoyang dialect' dictionary," Parker said.
    There are other similar projects in China. "Guangdong also has a map to record dialects in the province," said Wu Wei, linguistics professor at Jinan University in Guangzhou. "Phonemica may not be a scientific research project, but it's very precious as all its records are real. There are other projects but none are finished yet."
    Dialects have played an important part in Chinese history, and are an important cultural factor. People speaking the same dialect often find it easier to connect. Talking in a dialect can be used as ways of expressing emotion.
    "At present, China has 129 languages for different ethnic groups (dialects such as Cantonese and Shanghainese are not included), Mandarin is only one of them. However, more than 60 percent will have disappeared in 100 years. Some languages can only be spoken by less than 200 people, and a few can be spoken by just two or three locals," said Zhuang Chusheng, professor at Sun Yat-sen University in Guangzhou.
    "The country should make some adjustment on languages. At present, some TV stations are not allowed to broadcast programs with dialect speaking in them. This isn't right. The right of native language is very important to people," Zhuang said. (Wang Yuanyuan)
    "What we do is record dialects. I think recording dialects is useful and valuable. Imagine how it feels when hearing Cao Xueqin read his 'A Dream of Red Mansions' in his home dialect, or hearing Lu Xun talk in his native dialect about how his childhood had inspired his writing."
    — Kellen Parker