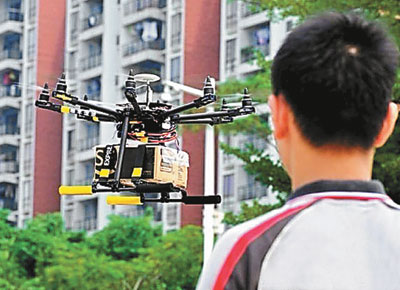 SHENZHEN-BASED delivery company Shunfeng Express said it has no timetable for an unmanned aerial vehicle (UAV) that it hopes to use to move goods internally.
    Shunfeng, a large private courier and delivery service in China, said their specialized UAV is going through internal tests and planned for sparsely populated areas with poor road access. The company will only consider using it for internal transportation, such as between branches, reports said.
    A Dongguan resident using the online name "Yupeihan" posted three pictures on Weibo on Monday that showed a small UAV flying through the air while carrying an express-delivery package with the Shunfeng logo. The UAV headed toward Songshanhu, the netizen said.
    The pictures have drawn wide attention.
    Shunfeng researched and developed its UAV, which can reach an altitude of up to 100 meters. The UAV's GPS can direct it to within 2 meters of pre-set destinations, Shenzhen Economic Daily reported yesterday. Shunfeng hasn't released development costs, load capacities or operating costs of its UAV.
    Some people joked online that they could soon be able to open their windows to receive express deliveries.
    Matternet, a U.S.-based company, previously has used a UAV to deliver goods. It could travel 9.7 kilometers with goods weighing 2 kilograms, the Economic Daily said. Matternet reportedly plans to replace its manual delivery services with UAVs and establish a global supply network for UAV parts.
    China is developing UAV regulations that might cover commercial uses as well as private uses, the Economic Daily said.
    A cake company in Shanghai previously tried to deliver cakes with a UAV, but the service was suspended due to safety and policy concerns.
    Some small UAVs sell for 50,000 yuan (US$8,101) to 60,000 yuan in commercial markets, the paper said.
    (Martin Li)